Twelve Aberystwyth alumni elected to Parliament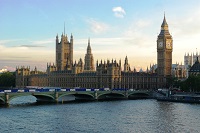 Twelve Aberystwyth University alumni were elected to the House of Commons in Westminster in the 2015 General Election.
Mike Wood MP, Will Quince MP, and Liz Saville-Roberts MP are three newly elected members, whilst Guto Bebb MP, Jonathan Edwards MP, Rehman Chishti MP, Glyn Davies MP, Lady Sylvia Hermon MP, Dan Jarvis MP, Colonel Bob Stewart MP, Gareth Thomas MP and Mark Williams MP were all re-elected.
Vice-Chancellor April McMahon said "I'd like to congratulate all our alumni who are newly elected to Westminster. We're very proud and glad our distinguished tradition of representation at Westminster will continue."
Guto graduated from Aberystwyth in 1990 with a BA in History. He was elected to Parliament in 2010 after winning the newly-created seat of Aberconwy for the Conservative Party. He increased his majority in 2015 to 3,999.
Conservative MP Rehman Chishti read Law at Aberystwyth, graduating in 2000. Born in Muzaffarabad, Pakistani Kashmir in 1978, he won the Gillingham and Rainham seat from the Labour Party in 2010. In the recent election he increased his majority to 10,530.
Former Welsh Assembly member Glyn Davies is currently serving his second term as Member of Parliament for Montgomeryshire, after he won the seat in 2010. Glyn attended Aberystwyth University at the age of 50, gaining a diploma in International Politics in 1995.
Leader of Plaid Cymru in Westminster, Jonathan Edwards graduated from Aberystwyth University in 1999 with a degree in Politics and History. He has been the MP for Carmarthen East and Dinefwr since 2010.
Independent MP, Lady Sylvia Hermon was elected to the Northern Irish seat of North Down as a Ulster Unionist Party member in 2001. A graduate from the Law Department, she gained her degree in 1977.
Labour Party MP for Barnsley Central, Dan Jarvis graduated from Aberystwyth University in 1996 with a degree in International Politics and Strategic Studies. He later joined the army where he served in Kosovo, Iraq and Afghanistan.
Newly elected Conservative MP for Colchester Will Quince graduated from Aberystwyth in 2005 after studying Law. He is currently on the Commons Transport Committee.
Liz-Saville Roberts held the seat of Dwyfor Meirionnydd after predecessor Elfyn Llwyd stood down at the 2015 election. Originally from Eltham, London, she moved to Aberystwyth aged 18 to study languages, graduating in Celtic Studies in 1987.
Colonel Bob Stewart graduated from Aberystwyth in 1977 with an in-service degree in International Politics. In his 27-year military career he served in Bosnia and Northern Ireland, before winning the seat of Beckenham in 2010.
Former minister of State for the Department of International Development, Gareth Thomas retained his seat of Harrow West for the Labour Party. He graduated in 1988 with a BsC in Politics from Aberystwyth University. Gareth is also the chair of the Co-operative Party.
Member of Parliament for the local constituency of Ceredigion, Mark Williams joined Aberystwyth University in 1984, studying politics. After time as a primary school teacher, he became an MP in 2005 after regaining Ceredigion for the Liberal Democrats.
Mike Wood held the seat of Dudley South for the Conservative Party in the 2015 election, following Chris Kelly standing down. Mike attended Aberystwyth University in Economics and Law graduating in 1997. He has previously been a councillor on Dudley Metropolitan Borough Council.