New postgraduate course in Facilitation Skills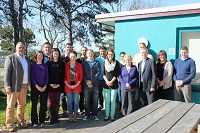 Eirwen Williams and Wyn Owen from M&B, Professor Andy Henley and Non Lavaro from Aberystwyth University and the 12 students on the first delivery day of the course.
Aberystwyth University has launched a new postgraduate-level training course in Facilitation Skills in partnership with Menter a Busnes. This new course welcomed the first cohort of 12 members of Menter a Busnes staff at Aberystwyth in April.
This module, Facilitation for Organisational Leadership, accredited at level 7, is an interactive practically based course in facilitation skills and techniques. Successful completion of the course will entitle participants to 20 credits at level 7.
All 12 participants enrolled on the course have become Postgraduate Students of the School of Management and Business at Aberystwyth University. All credits are transferable and give the students an opportunity to pursue further postgraduate programmes at Aberystwyth University in the future.
Professor Andy Henley, Director of the Institute of Management, Law and Information Science at the University explains; "We are delighted to be partnering with Menter a Busnes on this venture to support its work with local businesses and organisations. This is an exciting initiative which will result in direct benefits for the local economy by raising our ability to support enterprises to develop their leadership skills and potential."
Wyn Owen, Associate of Menter a Busnes and module leader added; "We are extremely excited about this new initiative in partnership with Aberystwyth University. It has taken a great deal of hard work, commitment and time from both partners to get to this stage and the potential to grow this is immense. We look forward to developing this in future and are already working on a second module in coaching and mentoring"