University welcomes hourly service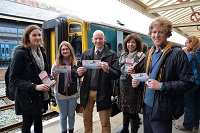 Attending the launch of the new service: Education Officer Grace Burton, Activities Officer Harriet O'Shea, Pro-Vice Chancellor Dr Rhodri Llwyd Morgan, Energy Advisor Janet Sanders and Graduate Trainee Chris Woodfield
Aberystwyth University has welcomed the new hourly train services on the Cambrian line between Aberystwyth and Shrewsbury.
At peak times on Mondays – Saturdays, extra services at 06.30, 08.30, 12.30 and 18.30 will be departing Aberystwyth, and at 06.26, 10.29, 18.31, and 20.30 from Shrewsbury.
On Sundays two new return services are in place, leaving Aberystwyth at 10.30 and 14.33, and from Shrewsbury at 16.29 and 18.28.
This will make Aberystwyth the most accessible it has been by train in years.
Pro-Vice Chancellor, Welsh Language and Culture and External Engagement, Dr Rhodri Llwyd Morgan attended the official launch of the service at Aberystwyth train station on Monday 18th May.
He said: "We're delighted with the improved train services, and we are glad to see that this has come after two years working alongside the Students' Union as part of the Shrewsbury to Aberystwyth Railway Liaison Committee. This is obviously good news for the students and staff of Aberystwyth University and the local area generally. It's also relevant for visitors to the Univerity, be they students, academics or speakers as well as businesses and employers that will help boost the economy.
"It's also great to see the positive influence of the entire University community in making the case for these improvements and I'm happy to pay tribute to the Students' Union's efforts"
More information can be found on the Arriva Trains Wales website.