App-a-thon Guinness World Record Attempt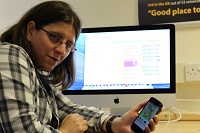 Dr Hannah Dee with the Android app
Aberystwyth University will be taking part in the App-a-thon Guinness World Record attempt, in partnership with BCSWomen on Saturday 13th June 2015.
The App-a-thon event to be held at Aberystwyth University will be part of a Guinness World Record attempt for the largest number of people simultaneously learning to code an Android app.
The record attempt will be held in over 30 locations across the UK and is being run by BCSWomen, part of BCS, The Chartered Institute for IT.
The fun and interactive 'App-a-thon' provides the opportunity for individuals and families to build simple interactive applications that participants run and install on their own Android phones or tablets. Participants will leave the day with apps they have built, and the software installed on their own laptop to use after the event.
Dr Hannah Dee, Senior Lecturer in the Department of Computer Science at Aberystwyth University and a member of BCSWomen, will lead the event in Aberystwyth and teach participants how to build Android apps using the MIT AppInventor software.
Hannah said: "I wrote the programming workshop to help children and parents learn to code, and I'm really excited that BCSWomen have chosen to run this at locations across the UK for this Guinness World Record attempt. I am also looking forwards to hosting the workshop at the Aberystwyth University site."
"No prior experience is required to take part in the day – we will combine a mixture of talks, activities and hands-on coding, and everyone will have written a simple app by the end." added Hannah. "If you have a laptop – Windows, Mac or Linux – you can run the simple web-based software. It helps to have an Android phone or tablet to test your code works, but there is an online emulator so even if you don't have an Android device you can have a go."
Gillian Arnold, Chair of BCSWomen said: "Within the IT profession, there is a real skills shortage in the UK that we need to address now. The BCSWomen App-a-thon event is a great way for lots of people to learn how to code at the same time, engage with those who are considering a career in IT and give every generation an opportunity to try their hand at coding."
The event aims to break the record, but also to encourage young people, particularly girls, to consider a career in IT. A recent BCS survey of IT professionals found that 79% believe the profession would benefit from having more women working in it. Currently, women account for just 16% of IT professionals; a figure that has fallen significantly in recent years.
The event is open to all, both individuals and families, with further information for parents and guardians available on the BCS event booking website.
The BCSWomen App-a-thon event will take place in the Medrus conference room, Penbryn, on the Penglais Campus in Aberystwyth on Saturday 13 June 2015, from 10am. For further information and to register for your place on this free event, please visit: http://www.bcs.org/content/ConWebDoc/54581
AU5715