Aber graduate appears on science TV show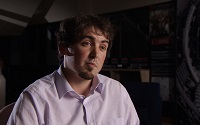 Dr Llion Evans
Aberystwyth graduate, Dr Llion Evans, will appear on S4C's science series Dibendraw tomorrow, 12 May.
Llion graduated in 2005 with a BSc in Physics.
His work as a research fellow at Culham Centre for Fusion Energy (CCFE) will be covered in Dibendraw, as CCFE work towards realising fusion energy.
Llion said: "Fusion energy is akin to creating a mini star on Earth and has the potential to help solve the World's energy crisis. We currently host the world's largest fusion reactor, JET and are contributing towards the global effort in fusion, the next stage of which is ITER in the south of France.
The first programme in the series will feature me at my work at CCFE, to which I feel being a student at Aberystwyth has played an important role"
The series Dibendraw covers scientific developments which are shaping the world we live in and looks at the part Welsh scientists have had in these endeavours.
Physics has been taught at Aberystwyth since 1872 and is home to over 300 undergraduate and postgraduate students.
The programme will air on 12 May, at 21:30 on S4C. It will also be available on 'Clic' and BBC iPlayer.