Aberystwyth premier for Welsh/Nigerian film DRY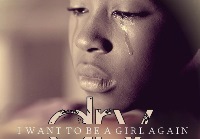 DRY
DRY (I want to be a girl again), described as "one of the most socially relevant African movie projects ever made", will be shown for the first time at the Aberystwyth Arts Centre on Saturday 29th November 2014.
Based in Wales (Aberystwyth) and Nigeria and produced by Next Page Productions, the film deals with child brides and the medical condition Vesico Vaginal Fistula (VVF) which can be caused by childbirth or violent rape.
The film focusses on 13-year old Halima whose parents marry her off to a 60 year old man, Sani, and Dr Zara, a medical doctor.
Zara helps Halima who suffers from VVF after giving birth and is then abandoned by her husband and ostracised by society.
The condition VVF is thought to affect more than 2 million young women around the world with between 50,000 and 100,000 new cases each year. 800,000 women live with the condition in Nigeria.
Research indicates that one of the big factors contributing to VVF is the issue of 'child brides'. This has been the source of suffering and degradation for millions of young women as well as the cause of extreme poverty and death as a result of the social isolation associated with the condition.
The film is written, directed and produced by Stephanie Linus (neé Okereke), who also plays the leading role, Dr Zara. Linus won the 2008 'Beyond the Tears' Humanitarian Award for her work against rape and VVF.
Darwin Shaw, who plays the role of Dr Alex, has previously featured in James Bond's Casino Royale, Prometheus and BBC's Call the Midwife.
Stephanie Linus and Darwin Shaw will attend the showing at Aberystwyth University.
The first viewing of the film is expected to be attended by senior representatives from Ghana High Commission, Rwanda High Commission and the Federal Republic of Nigeria.
The film was made in partnership with Aberystwyth University, who provided some of the filming locations. Students from the Department of Theatre, Film and Television Studies also worked on the production.
AU49014