'Gross Negligence Manslaughter, problems of definition; problems with sentencing, intention and consequences'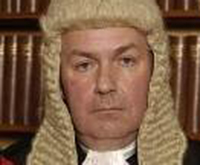 Judge Nicholas Cooke
Judge Nicholas Cooke will give a guest lecture on "Gross Negligence Manslaughter, Problems of Definition; Problems with Sentencing, Intention and Consequences".
The lecture will take place on Friday 21st November, 6.30pm in lecture room 1.21 in the Elystan Morgan Building at the Llanbadarn Centre.
Judge Cooke is an Aberystwyth University graduate, achieving first class honours and winning the Sweet and Maxwell Prize. He was called to the Bar in 1977 and went on to be appointed Queen's Counsel in 1998.
He is currently the Additional Judge at the Central Criminal Court (the "Old Bailey") and sits as a Deputy High Court Judge. A Freeman of the City of London, Judge Cooke also holds the Chancellorship of the Diocese of St David's.