Food crisis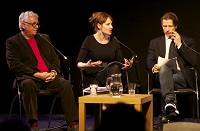 The authors of 'Food and the Literary Imagination'; Emeritus Professor Howard Thomas, Dr Jayne Archer and Professor Richard Marggraf Turley.
Food and the Literary Imagination, an interdisciplinary publication authored by Aberystwyth University academics that intervenes sharply into contemporary food politics is published today, Wednesday 19 November.
Following on from their controversial work on Shakespeare and Keats, which attracted international media attention in 2012 and 2013; Professor Richard Marggraf Turley from the Department of English and Creative Writing, Emeritus Professor Howard Thomas from the Institute of Biological, Environmental and Rural Sciences, and Dr Jayne Archer, a former lecturer at the Department of English and Creative Writing, have completed similarly ground-breaking research on Chaucer, George Eliot and C21 food crisis.
In the book, the 2012 London Riots are revealed to have begun, not as a smash-and-grab for consumer goods and branded trainers, but as a traditional food riot.
The new publication is set to bring all of this research together.
Their collaboration started six years ago following a chance meeting between Howard and Richard on a radio show about music.
As part of their 2013 research into Shakespeare's King Lear, they garnered international attention for their work on Shakespeare's grain hoarding and tax dodging - the Bard was prosecuted in February 1598 for holding grain during a food crisis.
Shakespeare also wrote the play Coriolanus about a famine created by rich merchants and politicians to maximise the price of food. The play can now be interpreted differently as a result of the trio's research.
The new book also examines Romantic poet John Keats. As they reveal, the cornfield that inspired his famous ode 'To Autumn' now lies under a car-park on St Giles's Hill, contrary to traditional beliefs that it was located along Winchester's picturesque water meadows (which are still included in the 'John Keats tour' of the city).
Also covered in the new book are the watermills included in Geoffrey Chaucer's classic, Canterbury Tales and George Eliot's The Mill on the Floss. The researchers reveal in entirely new ways the importance of food in literature, and how our ideas of food and its distribution are governed by literary representation.
Richard Marggraf Turley said; "The partnership between us wasn't just complementary it was transformative. Our ways of looking at food security were changed and transformed due to our unlikely combination of expertise. It might not have occurred to people, but English literature and the arts have a significant part to play in understanding and responding to issues of food values, supply, provenance and equitable distribution in the UK."
"What our book shows is that we need radically to recalibrate our ideas of the field and food, we need to recalibrate our sense of what the present food crisis is, and how we might shape and coordinate our responses to it, by looking at historical attempts to process similar crises of sustenance through literature. We're not facing the current crisis for the first time, or alone – some of our greatest writers have already dedicated their best work to thinking through the problem."
Howard Thomas said; "Our new book shows the land as a source of food and as a source of story. We can look at the past, present and future to see where we are now, as well as the importance of food in culture and history, and socially and economically, as part of understanding the effects of disruptions to the food chain – especially with a food crisis looming".
Food and the Literary Imagination is published by Palgrave Macmillan.