Aberystwyth University signs agreement with Repton School, Dubai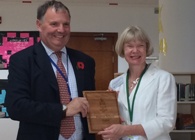 Jonathan Hughes-D'Aeth, Headmaster at Repton School and Professor April McMahon, Vice-Chancellor Aberystwyth University at the launch of the partnership with Repton School, which took place in Dubai.
Aberystwyth University will deliver its one year International Foundation Certificate as part of a new partnership with Repton School, Dubai, in the United Arab Emirates.
The partnership was launched in Dubai on Thursday 6 November.
Successful completion of the International Foundation Certificate along with an 'English for Academic Purposes' test, will ensure students attending Repton School direct entry to study undergraduate programmes at Aberystwyth University.
Speaking at the launch, Professor April McMahon Vice-Chancellor of Aberystwyth University said; "Aberystwyth University has a proud history dating back to 1872 when it was established by the people of Wales as the first Welsh university. We respect that history but we are also looking to the future and to important international and entrepreneurial activities. This new partnership with Repton School will help prepare our next generation of students in adapting to higher educational learning, which can be quite different to the school environment.
"I look forward to seeing the development of the International Foundation Certificate programme here in Dubai and in welcoming a new intake of students to our friendly community in the coming years."
Jonathan Hughes-D'Aeth, Headmaster at Repton School, said; "This course provides a truly unique opportunity for our students to complete a university-validated International Foundation Course, while at the same time continuing school level studies.
"There are no other universities of this calibre empowering and helping to equip young people in the UAE for direct entry to degree courses at a very highly rated academic institution.
"The value of the course is that it will specifically suit young people who wish to achieve academic English skills required by British universities, while still studying at school."
The one year International Foundation Certificate will be open to students from Repton School, and delivered through a validated, approved collaborative framework where students complete academic subjects within the International Baccalaureate Diploma as well as courses involving Theory of Knowledge, Community Action and Service, and a research project.
Each student will be registered with Aberystwyth University at the start of the course, based at Repton School in Dubai, and will receive guidance from the academic staff in relation to degree pathways and appropriate higher educational courses.
Teaching staff from Aberystwyth will visit Repton School throughout the academic year to moderate the course and the core programme, and advise and guide learners in Dubai.
Each student embarking on the course will visit Aberystwyth for at least one week during the early stages, with Repton students being introduced to their prospective academic departments, attend relevant lectures and be twinned with a student 'buddy' for their visit in order to help them understand life on campus and at the University.
The launch of the International Foundation Course at Repton School coincided with the opening of Aberystwyth University's new Dubai Office, which is also located at Repton School.
Both build on the work of Professor Tim Woods, Director of Institute of Education, Graduate and Professional Development, Ruth Owen Lewis, Director of the International Office, Murtza Ali Ghaznavi, Middle East Manager, and Rachel Davey, Director of the International English Centre at Aberystwyth University.
AU45614