Winners of Aber Does Dragons' Den to be revealed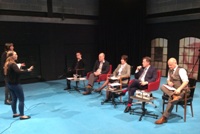 Aber Dragons prepare to film Aber Does Dragons' Den
The winners of Aber Does Dragon's Den will be revealed tomorrow evening, Friday 7 November, at a special showing of the programme at Aberystwyth University's School of Management and Business at the Llanbadarn Centre.
Over the past month five teams of Year 12 and 13 pupils studying for a BTEC level 3 Subsidiary Diploma in Business at Penglais School have been developing their business proposals and receiving expert advice on pitching ideas, marketing, finance and intellectual property from mentors at Aberystwyth University.
Each team presented their final business ideas to a team of Aber Dragons during a day-long recording of Aber Does Dragons' Den at the Department of Theatre, Film and Television Studies TV studio on Friday 24 October.
The Dragons consisted of five prominent Aberystwyth business personalities:
Greg Dash, digital camera entrepreneur who designed and developed the world's first digital fisheye camera; Tony Bates, co-founder of Aberystwyth-based law firm Morris & Bates; Andrew Evans, a local artist and fine art business owner; Victoria Kearney, who has 25 years' worth of experience working in the construction, leisure and retail industries; and Gareth Lloyd Roberts, Director of the Aberystwyth Arts Centre.
The screening of the 45 minute programme takes place at Llanbadarn Centre at 7pm on Friday 7 November and is open to the public for free admission.
Members of the winning team will each receive a state-of-the-art hand-held camcorder.
Aber Does Dragons' Den is the brainchild of Professor Brian Garrod from the School of Management and Business, who has secured the permission of the company behind the popular BBC series to run the event.
Aber Does Dragons' Den has been funded as part of the ESRC Festival of Social Science which runs from the 1st to the 8th of November.
Follow Aber Does Dragons' Den on Twitter: #AberDragonsDen
AU40914