A growing energy source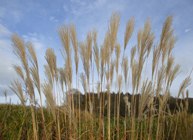 Miscanthus is also known as Elephant Grass
The promising energy crop Miscanthus is being improved through breeding seed based hybrids at IBERS (the Institute of Biological, Environmental and Rural Sciences) with academic and commercial partners in the UK, EU and USA.
Miscanthus, also known as Asian Elephant Grass, is a perennial grass with high energy output over input ratios which has been bred at Gogerddan since 2004, and is a crop that could be attractive in diversifying farm business in Wales today; thereby increasing renewable energy without undermining food security.
Miscanthus was identified as a strong candidate energy crop species approximately 25 years ago. Drawing on over 90 years of grass breeding tradition in Aberystwyth, a decade of Miscanthus research has produced exciting results.
IBERS has built up one of the largest Miscanthus germplasm collections outside Asia and with partners has developed a high-resolution, comprehensive genetic map of the energy crop.
Professor Iain Donnison of IBERS said; "By defining the genetic diversity in our germplasm collections, we can more rapidly introduce important crop traits into our new, seed-propagated Miscanthus products".
Dr. John Clifton-Brown who leads the breeding programme said; "Seeded types are showing enormous potential in trials, and are expected to replace earlier clone based hybrids in about 3 years when they are fully evaluated in different environments by growers"
IBERS is hosting the 2014 Miscanthus Safari and Symposium in Gogerddan on 25-26 November.
This is an opportunity for farmers and other interested parties to experience a decade of advances in Miscanthus breeding at IBERS, and will bring together complementary expertise of academic and commercial partners in Europe, UK and the USA.
Field visits on Tuesday 25th November will be followed by a presentation by William Cracroft-Eley, Chairman of Terravesta Ltd about the value of Miscanthus in diversifying farm business whilst addressing global objectives on increasing renewable energy without undermining food security.
IBERS
The Institute of Biological, Environmental and Rural Sciences (IBERS) is an internationally recognised research and teaching centre providing a unique base for research in response to global challenges such as food security, bioenergy and sustainability, and the impacts of climate change. IBERS scientists conduct basic, strategic and applied research from genes and molecules to organisms and the environment.
IBERS receives strategic research funding of £10.5m from the BBSRC to support long term mission driven research, and is a member of the National Institutes of Bioscience. IBERS also benefits from financial support from the Welsh Government, DEFRA and the European Union.
AU47514