University achieves EcoCampus Silver Award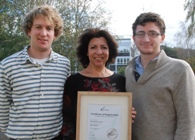 Celebrating the awarding of the EcoCampus Silver certificate; Aberystwyth University Energy Advisor Janet Sanders (centre) with colleagues Chris Woodfield (left) and James Pickerin.
As part of its participation in the EcoCampus National Award Scheme, Aberystwyth University has been awarded the Silver certificate in recognition of the work taking place to improve the environmental sustainability of its campuses.
EcoCampus is a UK wide environmental management system and award scheme for the higher and further education sectors.
The scheme enables universities to systematically identify, evaluate, manage and improve their environmental performance and practices in various progressive phases aiming towards compliance with the European ISO14001 standard.
Those that achieve silver accreditation have demonstrated that they have a clear environmental policy and have started to set objectives and targets for environmental improvement.
Janet Sanders, Energy Advisor at Aberystwyth University, said; "Here at Aberystwyth we are committed to being as efficient as possible in our use of energy and natural resources in order to minimise the impact on the environment.
"We are delighted to have been awarded the Silver award. The fact that we were only awarded Bronze in May of this year also demonstrates that we are making excellent progress in our work to improve the University's environmental performance and have a number of key initiatives planned over the coming months."
The EcoCampus system covers all aspects of the University's operations including; waste management, energy use, water efficiency, sustainable purchasing, construction and refurbishment, biodiversity, travel and community involvement.
Following the success of achieving Silver status in the EcoCampus scheme, Aberystwyth University has now been approved by EcoCampus to progress through to Gold and eventually Platinum status.
More information can be found on EcoCampus here: http://www.ecocampus.co.uk/ 
AU47314