Aberystwyth Student gains Coleg Cymraeg Cenedlaethol Scholarship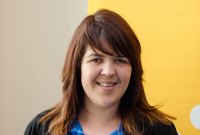 Miriam Elin Jones
An Aberystwyth University student has won a Scholarship through the Coleg Cymraeg Cenedlaethol to study a PhD this term.
Miriam Elin Jones, from Llanpumsaint in Carmarthenshire, has studied Welsh and Film and Television Studies at Aberystwyth as well as an MPhil in Welsh last term.
Her chosen title is Ymchwil i Gymru Fydd: Y Dyfodol, y Gofod ac Angenfilod mewn Rhyddiaith Gymraeg (The Future, Space and Monsters in Welsh Prose).
Miriam will examine Welsh prose science fiction elements by starting with the Mabinogi legends and the history of the genre: she begins with science proto-fiction of the nineteenth century, and discusses its development in the twentieth century to the present.
Miriam added, "This scholarship will allow me to fill a gap as Welsh-medium science fiction often gets ignored. At the moment I am concentrating on the 20th century, and I look forward to working on the Mabinogi. I also hope that this work will contribute to expanding the horizon of Welsh literature in general as it tends to be more traditional."
Miriam came third in Urdd Eisteddfod Crown Competition in 2013 and 2014. She also runs a website in Welsh literature / culture science fiction in general: http://gwyddonias.wordpress.com
AU19214