Penglais pupils to star in Dragons' Den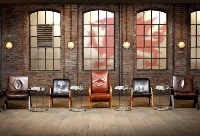 Aber Does Dragons' Den – the dragons' lair
Pupils at Penglais School, Aberystwyth are preparing to pitch their business ideas to a panel of Dragons as part of an initiative to promote entrepreneurship by the School of Management and Business at Aberystwyth University.
Five teams of year 12 and 13 pupils studying for a BTEC level 3 Subsidiary Diploma in Business at Penglais School are currently developing their business proposals and receiving expert advice on pitching ideas, marketing, finance and intellectual property from mentors at the University.
The teams will pitch their ideas to a panel of five Dragons in a recording session at a TV studio at the University's Department of Theatre, Film and Television Studies on Friday 24 October.
The winners will be unveiled at a special showing of the resulting programme Aber Does Dragons' Den at the School of Management and Business at the Llanbadarn Centre on Friday 7 November.
Aber Does Dragons' Den organiser, Professor Brian Garrod from the School of Management and Business, has secured the support of the company behind the popular BBC series for the event.
"I'm delighted that the producers of Dragons' Den have given us their permission to replicate the format and use some of the graphics for this exciting venture."
"The School of Management and Business is renowned for its focus on entrepreneurship and this is an excellent opportunity for these young people to pitch their ideas to the Dragons in front of the cameras, and find out whether they have what it takes."
"Having a business idea is one thing, persuading one of the Dragons to invest and back that idea is another, and I'm very grateful to colleagues at the University who have been advising the teams on how to develop and present their business propositions."
In the meantime, each team has been issued with a hand held camcorder to record their progress. The footage will also feature in the final version of Aber Does Dragons' Den.
Aberystwyth University's Centre for Widening Participation is working on the project, with a view to using the experience to engage with young people in the local area on a variety of enterprise and entrepreneurship opportunities.
Aber Does Dragons' Den has been funded as part of the ESRC Festival of Social Science which runs from the 1st to the 8th of November.
Twitter: #AberDragonsDen
AU40914