CIPD People Management Awards Shortlist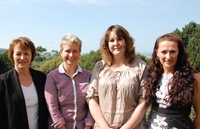 (Left-right) Sue Chambers from HR, Kath Williams Institute Manager, Nia Jones and Heather Hinkin from HR.
Aberystwyth University's Human Resources Department has been shortlisted for the CIPD People Management Awards which is considered the most prestigious awards in the HR profession.
Aberystwyth is the only university to have been shortlisted for the CIPD Awards which takes place this evening (30 September) at the Grosvenor Hotel in London.
The University has been included under the Best Employee Relations Initiative category for work carried out since September 2013 on reviewing the structures and requirements for administrative and clerical services within the University's Institutes.
Aberystwyth worked closely with local representatives and full-time officers of the University's recognised trades unions UNISON, UNITE and UCU to develop a pilot 'matching and slotting' process.
This process facilitated the transfer of staff from existing roles to new roles of a comparable grading in the proposed new structure without placing staff at risk or redundancy.
Established in 1872, Aberystwyth University is a community of 12,000 students and 2,300 staff.
Aberystwyth University is 35th in the UK for 'Research Quality' (Sunday Times University Guide 2014). 
Aberystwyth University received its first Athena SWAN Charter Award this month as well as a Bronze Award for the Gender Equality Charter Mark (GEM) which recognises commitment to gender equality in the arts, humanities and social sciences.
AU26814