Aberystwyth Alumna shortlisted for BBC Short Story Award 2014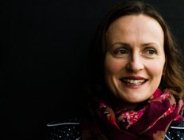 Francesca Rhydderch
Former Aberystwyth PhD student, Francesca Rhydderch, has been shortlisted for the BBC National Short Story Award 2014 in partnership with Booktrust.
In the third all-female shortlist in nine years, the shortlist sees five writers tackle pivotal moments in a woman's life from girlhood to middle age, including sex and love, death and disintegration.
The shortlist, selected from over 550 entries, features an all-star line-up of acclaimed writers: the majority of whom are established masters of the short story form.
Tessa Hadley is the author of two collections of short stories in addition to five novels, while Rose Tremain will publish her fifth volume of short stories in November and Lionel Shriver has been shortlisted for the EFG Sunday Times Award. Both Tremain and Shriver have also both been shortlisted for the BBC National Short Story Award before.
Award-winning novelist and essayist, Zadie Smith is also on the 2014 shortlist. Rhydderch joins these four established author as a talented newcomer. A Welsh novelist and playwright, her debut The Rice Paper Diaries was longlisted for the Author's Club Best First Novel Award and won the Wales Book of the Year Award for Fiction 2014. 
This year's shortlist is:
Bad Dreams by Tessa Hadley
The Taxidermist's Daughter by Francesca Rhydderch
Kilifi Creek by Lionel Shriver
Miss Adele Amidst the Corsets by Zadie Smith
The American Lover by Rose Tremain
Transporting readers across the world from New York to Kenya, London to Paris, and to a Welsh seaside town, the stories feature a gap-year student who cheats death; a performer coming to terms with middle age, a disappointed lover; and two young girls whose eyes are opened to a more complicated adult world.
Rhydderch'sThe Taxidermist's Daughter brilliantly depicts a young girl in post-war rural Wales first becoming aware of her sexuality and the attractions of an older man. 
Born in Aberystwyth, Rhydderch studied for her first degree in Modern languages at Cambridge University. She then returned to Wales to continue her studies and was awarded a PhD from the then University of Wales, Aberystwyth for her comparative study on the work of Virginia Woolf and Kate Roberts.
Her début novel, The Rice Paper Diaries, published in 2013, was longlisted for the Authors' Club Best First Novel Award and won the Wales Book of the Year Award for Fiction. Her short stories have been published in magazines and anthologies and broadcast on Radio 4, and she recently received a Literature Wales bursary to work on her first collection of short fiction. 
Other projects include a play in Welsh, Cyfaill, about iconic Welsh-language writer Kate Roberts, for which she was shortlisted for the Theatre Critics Wales Best Playwright Award 2014. 
The winner and runner-up of this year's Award will be announced at a ceremony held in BBC Broadcasting House's Radio Theatre on Tuesday 30 September 2014, which will be broadcast on BBC Radio 4's Front Row. During the live edition of Front Row, presenter John Wilson will also be in conversation with acclaimed writer Hilary Mantel, as part of a programme celebrating the short story.
For more information on the Award, please visit www.booktrust.org.uk/bbcnssa
AU40314