Ellis Prize awarded to Dr Susan Davies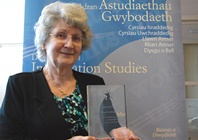 Dr Susan Davies with the Ellis Prize
The Archives and Records Association recently awarded the Ellis Prize to Dr Susan J Davies, an Associate Lecturer in the Department of Information Studies at Aberystwyth University.
The award was made to Dr Davies by ARA Chair, David Mander, at the ARA annual conference last week in Newcastle. David Mander praised the 'substantial contribution' which Dr Davies had made to the sector and to the profession.
The Ellis Prize is given, usually every three years, to recognise excellent work in the sector and 'significant contribution to archive theory and practice'.
The Ellis Trophy for 2104 reads: 'Awarded to Dr Susan J Davies for excellence as an educator and provider of expert advice on archives'.
Dr Davies, who lives in Aberystwyth, taught at Aberystwyth University from 1979 to 2008 in the Department of History and Welsh History.
She was also attached to the Department of Information Studies from '98 to '08 and was Director of the MScEcon programmes in Archive Administration and Records Management. She established an MA course in Heritage Studies.
She explains, "This is such a significant award because of the common interest I have with the person who founded it and the care of archives.
"It's so important that we look after our cultural heritage and historical material because the information preserves our past and defines our identity."
From 2008 to 2011 Dr Davies was a member of the Heritage Lottery Fund's Expert Panel and from 2011 to 2013 an advisor on behalf of the HLF for a large archive digitisation project at Tate Britain.
Dr Davies' PhD research was into medieval ecclesiastical history. She also has research interests in administrative and local history, manuscript and editorial work, heritage concepts and their role in society.
Dr Davies has been a member of the Archives and Records Association(and previously the Society of Archivists) since the 1980s. Her thoughts on accepting the Ellis Prize will be published in ARC magazine and made available widely in the sector.
The Ellis Prize is made possible by an endowment to the (then) Society of Archivists in 1972 by Roger Ellis, in memory of his parents Harry and Sybil Ellis.
AU34114