Increase in satisfaction with quality of teaching and learning resources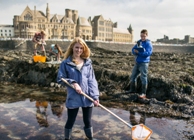 Students at Aberystwyth University have shown increased levels of satisfaction with the quality of teaching and learning resources according the latest National Student Survey (NSS).
The NSS is an annual survey of final year undergraduate students, which aims to inform the choices of prospective higher education students and to foster a culture of continuous improvement across the Higher Education sector. 83% of Aberystwyth students responded that they are satisfied with their overall Aberystwyth student experience.
86% of Aberystwyth University students said they were satisfied with the quality of teaching on their course, up from 84% in 2013. Satisfaction with learning resources also increased to 82%.
At departmental level, there were some notable performances with Computer Science, Psychology, Sport and Exercise Science, Physics, Welsh and Theatre, Film and Television Studies registering significant increases in satisfaction with the quality of teaching.
Departments with high overall satisfaction ratings include Mathematics, Welsh, Geography and Earth Sciences, Psychology, Sport and Exercise Science, International Politics and Physics.
Pro Vice-Chancellor Rebecca Davies said; "This year's NSS clearly shows that students are beginning to reap the benefits of the new facilities that are coming on stream at Aberystwyth University.
"More than £8m is being invested in new teaching and learning facilities. A £3m investment programme to upgrade teaching rooms on the Penglais campus is underway; this is in addition to the £5m already invested in new teaching and learning facilities during 2013, including a major upgrade to the University's Llanbadarn Campus.
"As well as new facilities, we are investing in staff, rewarding commitment to teaching and learning, and supporting lecturers and students through exciting and innovative new initiatives such as the new £200,000 Aber Academi. This unit is creating multimedia learning resources using audio, video and animation to enrich the student learning experience - and makes Aberystwyth University accessible to all."
"Our students tell us that they love Aber, and our graduates, both recent and of old, hold the University dear. The University is addressing many years of underinvestment in key areas affecting the student experience and this year's NSS shows that we are well on the way to restoring Aberystwyth's reputation as one of the best places in the world to be a student."
Aberystwyth University is also investing upwards of £100m in three major projects. Later this year the new £45m Fferm Penglais student residences will open its doors, offering some of the best student accommodation available at any university in the UK.
The University is also planning to invest £35m in an innovation and enterprise campus at Gogerddan and £20m in the redevelopment of the iconic Old College, the home of Wales' first University College.
AU15214