Geoff Constable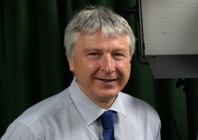 Geoff Constable
It is with great sadness that we note the sudden death of Geoff Constable, who worked on the HEFCW-funded CADARN project.
Geoff was the Liaison Officer working for the HEFCW-funded CADARN project, having worked at the University in various other roles since 1995, including as a Research Associate in the Department of Computer Science.
Geoff was a qualified teacher and graduate of the University of Kent, Canterbury and Aberystwyth University where he completed an MSc in Computer Science in 1994. He had a long and varied career in the areas of IT, communications technology, video, networking, and technology enhanced learning. This included working for the Post Office, Powys County Council, the National Library of Wales, and various companies based in Machynlleth. In 1995 he joined the University on the "MICE-NSC" project in Computer Science, promoting and evaluating the use of multimedia communications over multicast IP, the Welsh component of a larger project involving, amongst others, UCL, Exeter and Glasgow.
In addition to MICE-NSC, Geoff worked for Computer Science in many other roles and projects including webmaster, multicast IP deployment, UK-wide Video Technologies Advisory Service, IP "Quality of Service" studies, rural network deployment, and the use of communications and IT. Much of this work was funded by UKERNA, JANET and JISC. He also worked on a large European-funded software engineering project called SCREEN.
A study produced by the United Kingdom Education and Research Network Association (UKERNA) in 1999 demonstrated evidence of the demand for an integrated national video network embracing both Further and Higher Education. ELWa (then the Welsh Funding Council) contracted UKERNA to deliver the video conferencing network. The Welsh Video Network (WVN) Support Centre was established with staff based at Swansea and Aberystwyth. A pioneering and global leading initiative, Geoff joined the WVN in 2001 when he was appointed Video Services Support officer, working there until 2012 supporting many thousands of users of the WVN. During this time he contributed to a number of national projects, initially at UKERNA, then the Joint Academic Network (JANET).
Geoff had been a long standing member of the local UCU Exec and the Health, Safety and Environment representative. He worked tirelessly in these roles supporting the Union and the interests of its members at Aberystwyth. A champion of green and environmental causes he was successful in raising the profile of these issues at a University level. Geoff was involved in two Green ICT projects exploring the carbon emissions savings that can be made by using information and communications technologies effectively. During 2010-11 he worked on a project exploring the use of video conferencing technology to reduce travel-related carbon emissions. After this, during 2011-12, he worked on the PAWS (Power down And Wake System) project, funded through the JISC Greening ICT Programme, which reduced power consumption from computers. Recently, in Information Services, he was responsible for setting up the organic vegetable box scheme and was a central part of the IS Green Impact team.
Most recently Geoff played a key role working as Liaison Officer for the CADARN Learning Portal, a national project working with academic staff creating educational media to inspire new students into higher education. Geoff was instrumental in securing the £1.5M project funding from HEFCW and, working with the CADARN network, in shaping the direction of this ground-breaking initiative. Additionally, Geoff branched out into video journalism maintaining an informative blog showcasing innovative teaching from across Wales.
Many colleagues have worked closely with Geoff over the years and will miss his generosity and enthusiasm. Our thoughts and sympathies are with his family, friends and colleagues at this very difficult time.
AU32014