Welsh colonists of Patagonia topic of discussion at Eisteddfod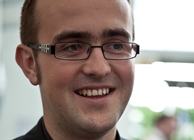 Dr Hywel Griffiths
Aberystwyth University will hold its first Annual E.G. Bowen Lecture at The National Eisteddfod in Llanelli this year (1-9 August) which looks at how the Welsh colonists of Patagonia have adapted to flooding and drought from 1865 to the present day.
Titled 'Flooding, drought and adaptation in the hydrographic society of Welsh Patagonia', the lecture by Dr Hywel Griffiths from Aberystwyth will look at the interfaces between the Welsh colonists, their culture and environment as they were forced to adapt to unexpected climatic extremes.
The lecture takes place on Friday 8 August 2014 at the Aberystwyth University marquee at The National Eisteddfod from 12pm.
Dr Griffiths from the Department of Geography and Earth Sciences at the University explains, "Looking at the writings of the early Welsh colonists provides an opportunity to reconstruct a chronology of flooding and drought in the area and how they adapted to their new environment.
"Results from archival research and interviews with members of Welsh-speaking Patagonian communities also highlights the importance of the settlers' experiences in Wales and their cultural memories as they perceived the new landscape in comparison to the environment of Wales with which they were more familiar."
"Flooding was particularly common in the crucial early years immediately following colonisation and at the turn of the twentieth century, but the harnessing of rivers for irrigation and river regulation allowed the establishment of a flourishing agricultural community."
The lecture has been established in memory of Professor E. G. Bowen, an internationally renowned geographer with a particular interest in the physical geography and social geography of Wales.
Bowen, born in Carmarthen, was on the academic staff of the Department of Geography and Anthropology at Aberystwyth from 1929, and was still writing and lecturing at the University up until his death in 1983.
For a full list of events taking place at the Aberystwyth University stand at the National Eisteddfod, go to: http://www.aber.ac.uk/en/news/archive/2014/07/title-153786-en.html
AU22214