Professor Dave Barnes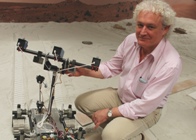 Professor Dave Barnes at the Mars Yard, which he built in Aberystwyth.
It is with great sadness that we report the death of Dr Dave Barnes, Professor of Space and Planetary Robotics at the Department of Computer Science who has died aged 58.
Originally from Blackburn, Professor Barnes graduated from the University of Bradford (1980) before going on to complete a Masters degree in Machine Intelligence and Robotics at Queen Mary College University of London, and a PhD in Artificial Intelligence and Robotics here at Aberystwyth in 1985.
He played a key role in the development of the robotic arm that featured on the Beagle 2 Lander mission to Mars and worked closely with the late Professor Colin Pillinger.
Professor Barnes was a member of the UK STFC Aurora Advisory Committee (AurAC) since 2005, and represented the interests of the UK EPSRC community on issues relating to the ESA Aurora Programme and Planetary Exploration.
He was a founding member of the UK Space and Planetary Robotics Network, and a member of the UK STFC Particle Physics, Astronomy and Nuclear Physics Science Committee (PPAN).
He was a member of the ESA ExoMars Rover team, and was researching autonomous science sample acquisition methods for the ExoMars mission, which is scheduled for 2018.
He was a Co-investigator for the mission's Panoramic Camera (PanCam) science instrument. As a member of the PanCam 3D Vision Team, his responsibilities included PanCam modelling, simulation, image data processing and science data visualisation.
More recently he was central to the initial developments for the proposed Spaceport project through his work with the Wales Academic Space Partnership.
Our thoughts and sympathies are with his family and those who worked closely with him at this very difficult time.
AU31314