The complete guide to Clearing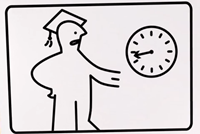 With only two weeks to go until Clearing, Aberystwyth University has made the process as stress-free as possible this year by creating a video guide to help individuals navigate their way through the system: http://youtu.be/E6lWUIK7ic8
If your exam results turn out to be different to what you expected, don't panic because there are numerous courses available through Clearing and the process can still match you with that perfect course.
Aberystwyth is this year offering a Clearing Bursary which is a £200 discount off the first year's accommodation fee and some individuals could also be eligible to receive an Aber Bursary worth up to £1,100 a year.
In addition, all UK/EU applicants who are holding Aberystwyth as their Insurance choice will also receive the £200 accommodation discount. More information about scholarships, bursaries and awards can be found here: http://www.aber.ac.uk/en/scholarships-bursaries/
Aberystwyth University's full guide to Clearing is available here: https://www.aber.ac.uk/en/ucasclearing2014/
Pro Vice-Chancellor, Professor John Grattan, said, "We recently held our Graduation Week at Aberystwyth and when we asked our graduates why they decided to come here, the majority said that it was because of the reputation of the university and that it was a safe and friendly place to study.
"The video guide provides advice and tips on what to do immediately after receiving your A Level results until a place at university has been secured. The Clearing Support Team is available any time before, during and after A Level results day, so give us a call if you have any questions."
A report published last month by the Complete University Guide ranked Aberystwyth University among the top five safest locations in England and Wales to study, and the safest in Wales.
Aberystwyth is offering guaranteed accommodation for all first year students, including those coming through Clearing and Adjustment, so call the Clearing Support Team on 01970 608 599 if you have any questions.
Aberystwyth University has just over 11,000 undergraduate and post graduate students, around a third of which are from Wales, around 60% are from the rest of the UK and Ireland, with the remainder from the rest of the world.
During the next three years, Aberystwyth University is investing over £100 million in enhancing and extending residential and teaching facilities across its campuses which includes the new Fferm Penglais residences, the Old College, Gogerddan Campus and Llanbadarn Centre.
AU31114