Tributes paid to Malaysian student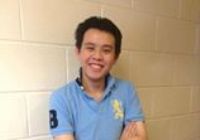 Ern Nian Yaw
Tributes have been paid to Law student Ern Nian Yaw, who died last week in a tragic car accident in his home country of Malaysia.
Ern came to Aberystwyth University in 2012 after studying at HELP University. He graduated in 2013 with a 2(1) LLB.
After graduating, he joined the Department of Law and Criminology's Human Rights and Humanitarian Law Masters programme.
Last month he returned to Malaysia to complete his dissertation and to take up a placement with the United Nations Human Rights Commission.
On the day of the accident, he was returning to Kuala Lumpur from Malacca after securing the release of forty refugees from a detention centre.
In a tribute, Professor John Williams, Head of the Department of Law and Criminology said:
"It was with great sadness that we heard of the death of Ern Nian Yaw one of our Law students from Malaysia.
"Upon his arrival in Aberystwyth in 2012, Ern immediately made a great impression on departmental life not only as highly motivated student, but also as a unique and special individual. His warm personality, bright smile and genuine modesty endeared him to everybody who met him. He had a great sense of humour and fun. His philosophy was that life was to be enjoyed.
"Ern loved Law. He was always happy to engage in discussions on any Law related subject. However, his real passion was the role of Law in protecting and enhancing the rights and freedoms of others, particularly those who are for whatever reason disadvantaged. He was committed to promoting human rights and was angered by injustice and unfairness wherever it took place. Ern was destined to be a great campaigner for human rights. He would have made a difference – he would have worked to shape a fairer and more just society.
"Ern was a great supporter of the Department of Law and Criminology. This year he played a central role in organising a day conference on AIDS/HIV. As one of the joint compares for the day, Ern was an excellent ambassador for Aberystwyth – a point made by many participants. Ern was also one of the founding editors of the Aberystwyth University Student Law and Criminology Journal. The first edition of the journal is dedicated to Ern. His leadership and team working skills were evident in turning the idea of the journal into reality.
"Ern had many talents and abilities, and he had a promising future. It is sad beyond what words can express that his life ended so suddenly and at such a young age. His academic successes and the accolades he achieved are testimony to his many achievements during his short life. His death is a great loss. He was a lovely person who will stay in our memories. He was kind and caring. To meet him would brighten up the day. Ern's legacy will inspire future generations of students and staff at Aberystwyth and beyond, and that is an appropriate tribute to such a great person.
Our thoughts are with his family and many friends."
AU30314