Deputy Speaker of the House of Lords honoured as Fellow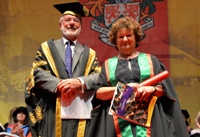 Vice President of Aberystwyth University, Dr Glyn Rowlands, presenting Baroness Kay Andrews as Fellow of Aberystwyth University.
Baroness Kay Andrews, Deputy Speaker of the House of Lords, former Chair of English Heritage and Aberystwyth alumna, has been honoured as Fellow of Aberystwyth University.
Baroness Andrews graduated from Aberystwyth University with a BA in International Politics in 1964.
Following a period working as Research Clerk in the House of Commons where she specialised in science policy, social policy and education, she became a policy adviser on health and education policy to the then Leader of the Opposition, the Rt Hon Neil Kinnock (now Lord Kinnock) in 1985.
In 1992 she founded and became the first Director of the Foundation for Out of School Learning (Education Extra) a UK wide charity developing after school learning programmes for children and young people.
A working peer on the Labour benches in the House of Lords since 2000, Baroness Andrews was House of Lords Spokesman/Government whip on health and education (2003-2009), and House of Lords Minister for Housing, Regeneration and Planning at the Department of Communities and Local Government (2005-2009).
In 2009 she became the first woman Chair of English Heritage (2009-2013). She is the author of a recent report for the Welsh Government on Culture, Heritage and Poverty, and has also written books and articles on science policy, social policy and education. She is a Deputy Speaker of the House of Lords.
Baroness Kay Andrews was presented by Rebecca Davies, Pro Vice-Chancellor for Student and Staff Services, on Friday 18 July.
Presentation of Baroness Kay Andrews as Fellow of Aberystwyth by Rebecca Davies, Pro Vice-Chancellor.
"It gives me great pleasure to introduce you to Baroness Kay Andrews.
In the early 1960s Elizabeth (Kay) Andrews, studied International Politics at Aberystwyth University and after her graduation in 1964 she embarked on further studies and an illustrious career in policy, politics and most importantly in people and learning.
Significant highlights include being a Fellow of the Science Policy Research Unit at Sussex University, working as a Senior Research Clerk in the House of Commons Library, and, from 1985 to 1992 being Policy Adviser to Neil Kinnock as Leader of the Opposition.
From 1992 until 2002, Baroness Andrews was the Founder and Director of Education Extra, the national charity for out of school learning and activities, which aimed to put after-school activities and learning within the reach of every child as a means of raising achievement, improving schools and supporting families and communities.
She received the OBE in 1998 for her work in education and was elevated to the peerage as Baroness Andrews of Southover in 2000.
She re-joined the Government in 2003 as a Whip with responsibility for health, work and pensions, and education.
Between 2005 and 2009 she was Parliamentary Under-Secretary of State in Communities and Local Government, with particular responsibility for Housing and Regeneration.
In 2009 she applied her passion for access to heritage in her appointment as Chair of English Heritage, a post she held until July 2013.
Throughout her career Baroness Andrews has made a difference to the ways in which cultural and heritage organisations, and policy makers understand the important role they play in education, poverty and social justice.
Her most recent work in 2014 for the Welsh Government explores harnessing the power of the arts, culture and heritage to promote social justice in Wales.
Her report describes ways in which cultural and heritage bodies can work more closely together to broaden; access, appreciation and participation in culture in ways that contribute to reducing poverty.
I first met Kay during Autumn 2013, and immediately knew that I'd found a kindred spirit in a shared passion for the beauty, and life changing experience that is Aberystywth. I was holding an early morning meeting in the Old College quad, and realised that the person who'd sat at an adjacent table to me the previous evening at a seafront restaurant was now having a look around that marvelous building.
I didn't know that I was talking to a Baroness, only that I was meeting a fellow Aber-enthusiast.
Mr Vice President, it is an honour and a pleasure to present to you Baroness Kay Andrews, as a Fellow of Aberystwyth University."
Fellows 2014
Eleven Fellows have been honoured this week by Aberystwyth University during this year's Graduation ceremonies which been taking place at the University's Arts Centre from Monday 14 until Friday 18 July.
The title of Fellow is awarded to individuals who have a close association with Aberystwyth and the University, or who have made an outstanding contribution to professional or public life in Wales.
Also honoured were:
D. Geraint Lewis, author, former Education and Children's Librarian for Dyfed and Assistant Director of Education at Ceredigion County Council.
Professor John Harries, renowned atmospheric physicist and Wales' first Chief Scientific Adviser.
Jeremy Bowen, BBC Middle East Editor.
Sir Michael Moritz, Cardiff-born venture capitalist and philanthropist.
Rhodri Meilir, actor and Aberystwyth graduate who recently appeared in the National Theatre of Wales' highly acclaimed Mametz.
Ed Thomas, playwright, director and producer, and founder member and creative director of TV production company Fiction Factory.
Rhod Gilbert, comedian and radio and TV presenter.
Professor Bonnie Buntain, Assistant Dean Professor of Public Health at the University of Calgary in Canada and former Chief Public Health Veterinarian at the Food Safety and Inspection Service for the US Department of Agriculture.
Dr John Sheehy, Emeritus Head of Applied Photosynthesis and Systems Modelling Laboratory at the International Rice Research Institute and an alumnus of Aberystwyth University.
Brian Jones, farmer, entrepreneur, and founder and Managing Director of Castell Howell Foods Ltd.
AU29714