Comedian Rhod Gilbert honoured as Fellow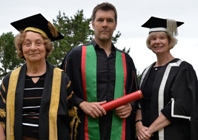 Elizabeth France, Vice-President of Aberystwyth University (left), Rhod Gilbert and Professor April McMahon, Vice-Chancellor of Aberystwyth University.
Stand-up comedian and TV and radio presenter, Rhod Gilbert, has been made a Fellow of Aberystwyth University today, Wednesday 16 July.
The son of two Aber alumi, Rhod Gilbert is best known for his comedy genius.
A former market researcher, his comedy career began in 2002. In the first 18 months of his career he was the first person in the UK to reach the finals of every major new talent competition and succeeded in scooping four awards.
In 2005, he was nominated for the Perrier Best Newcomer Awards and in 2008 was nominated for the main if.comedy award.
In 2010, Rhod fronted the BBC series Rhod Gilbert's Work Experience that saw him turn his hand to a variety of jobs.
He has been a regular contributor to a range of major comedy shows and now hosts the BBC Radio Wales' Rhod Gilbert Show every Saturday morning.
Rhod Gilbert was presented by Professor Sarah Prescott, Director of the Institute of Literature, Languages & Creative Arts on Wednesday 16 July.
Presentation by Professor Sarah Prescott:
"Rhod Gilbert
I am delighted to have the privilege to introduce Mr Rhodri Gilbert as an Honorary Fellow of Aberystwyth University especially before this audience which represents some of our most creative successes from the Department of English and Creative Writing and the School of Art. Rhod Gilbert is one of the best and most well-known comedians, performers and broadcasters in the UK and internationally. He is a genuinely Welsh creative talent who has, since the early 2000s, become a household name. Among a long string of accolades, he has been described as 'Without doubt one of the best comedians anywhere in the world' (Time Out). We have been lucky to have Rhod as a regular performer at our Arts Centre and his further connections to Aber are clear as both his parents are alumni of the University and, so I am told, had their first date at the Penguin Café in Aberystwyth.
Rhod Gilbert has enjoyed great success on television, radio as well as live stand up. He has hosted his own hugely successful show on BBC1, 'Ask Rhod Gilbert' which attracted over 2 million viewers per week. Other notable successes in television include his award-winning series (plural) Rhod Gilbert's Work Experience (which won British Academy Cymru Awards in 2011 and 2012 for series 1 and 2 respectively). The 'work experience' for these programmes included being a bin man, a mum, a wedding planner, a male model and a Scout leader. A True Renaissance Man of many talents. We look forward to the fifth series which is being/has been filmed this year. The Institute of Literature, Languages and Creative Arts also look forward particularly to welcoming Rhod to his new work experience as Fellow at Aberystwyth University where, unbeknown to him as yet, he will be trying his hand at being a university professor starting in semester 1 2014-15 (we've assigned him modules on Shakespeare and Renaissance drama, Fine Art workshops in Drawing and Illustration, and – of course - leading classes in Beginners Welsh). Only joking!
In addition to his award-winning television and radio performances, Rhod Gilbert's work in live stand up is legendary ranging over many topics, from a distinctly and often outraged Welsh perspective on the world at large. One of the most brilliant aspects of Rhod's performances is the bemused, genuinely flummoxed and again outraged reactions to objects and events of domestic familiarity - such as buying a new hoover, choosing a duvet and collecting damaged luggage from the airport - which make the seemingly mundane actions of everyday life hilariously surreal – the mark of a comic genius coupled with the brilliant delivery and timing that Rhod is renowned for. As a stand-up comedian, Rhod has toured many times throughout the UK and on an international level to sell-out shows and festivals including classic shows such as 'Rhod Gilbert and the Award Winning Mince Pie' and 'The Man with the Flaming Battenberg Tattoo'. He has also worked extensively on radio including, for example, his own Saturday show on BBC Radio Wales and various continuing guest host slots.
It is fact now generally acknowledged that Rhod Gilbert's work just keeps getting better and better so we are delighted that he is being awarded a Fellowship of the University in 2014 at a time when the creative arts at Aberystwyth are thriving in and beyond the first year of the creation of the Institute of Literature, Languages and Creative Arts, of which English and Creative Writing and the School of Art are part.
Madam Vice-President it is an honour and a pleasure to present to you Mr Rhodri Gilbert, as a Fellow of Aberystwyth University."
Graduation 2014
Eleven Fellows are being honoured this week by Aberystwyth University during this year's Graduation ceremonies which take place at the University's Arts Centre from Monday 14 until Friday 18 July.
The title of Fellow is awarded to individuals who have a close association with Aberystwyth and the University, or who have made an outstanding contribution to professional or public life in Wales.
Also being honoured are:
D. Geraint Lewis, author, former Education and Children's Librarian for Dyfed and Assistant Director of Education at Ceredigion County Council.
Professor John Harries, renowned atmospheric physicist and Wales' first Chief Scientific Adviser.
Jeremy Bowen, BBC Middle East Editor.
Sir Michael Moritz, Cardiff-born venture capitalist and philanthropist.
Rhodri Meilir, actor and Aberystwyth graduate who recently appeared in the National Theatre of Wales' highly acclaimed Mametz.
Ed Thomas, playwright, director and producer, and founder member and creative director of TV production company Fiction Factory.
Professor Bonnie Buntain, Assistant Dean Professor of Public Health at the University of Calgary in Canada and former Chief Public Health Veterinarian at the Food Safety and Inspection Service for the US Department of Agriculture.
Dr John Sheehy, Emeritus Head of Applied Photosynthesis and Systems Modelling Laboratory at the International Rice Research Institute and an alumnus of Aberystwyth University.
Brian Jones, farmer, entrepreneur, and founder and Managing Director of Castell Howell Foods Ltd.
Baroness Kay Andrews, Deputy Speaker of the House of Lords, former Chair of English Heritage and an Aberystwyth alumna.
AU29314