Professor Len Scott: Learning and Teaching Fellow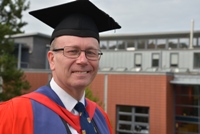 Professor Len Scott
Professor Len Scott has been presented with a Learning and Teaching Fellowship Award, in recognition of his exceptional contribution to teaching and learning at the University.
Every year, Aberystwyth University awards Learning and Teaching Fellowships to members of academic staff who have excelled in their field.
Five Fellows will be presented with their Award during this year's graduation ceremonies which take place from 14-18 July 2014.
A Professor of International History and Intelligence Studies at Aberystwyth, Professor Scott's research interests focus on intelligence studies, Cold War history and nuclear history.
Professor Scott joined Aberystwyth University in 1990 following several years in Westminster and Whitehall. He is a Fellow of the Royal Historical Society and of the Higher Education Academy. He was also founding Director of the Centre for Intelligence and International Security Studies from 2004 to 2007 and then from 2009-10. From 2000 to 2005 and from 2009 to 2013 he served as Dean of Social Sciences.
Professor Scott explains, "I am honoured and gratified to receive this award. My approach to teaching reflects over twenty years' experience, reflection and innovation. I greatly enjoy teaching, and believe that the best way for students to learn is to enjoy learning.
"Developing a vibrant learning environment extends well beyond the classroom. Yet what happens in the classroom is vital. I remain committed to finding ways of stimulating and encouraging students at all levels. I am also committed to the pursuit of excellence - part of the prize money will be given to endowing a prize for the best dissertation by an MA student in intelligence studies."
The other four academic members of staff include Dr Antonia Ivaldi, Department of Psychology, IBERS' Dr David Whitworth, Graham Lewis from the Centre for the Development of Staff and Academic Practice and Nitin Naik, Department of Computer Science.
The aim of the scheme is to raise the profile of teaching or support for learning at the University and recognise an individual's local and wider influence on the teaching community.
Professor Tim Woods, Director of the Institute of Education, Professional and Graduate Development at Aberystwyth University and Chair of the Awards Panel explains, "These individuals have made a significant contribution to teaching and learning at the University and have gone above and beyond the call of duty on several occasions.
"These are the staff who are our principal champions of learning and teaching and who often inspire innovation and disseminate cutting edge practices within the University.
"Each Fellow has been awarded £1,200 to support them in order to continue with their professional development in teaching or learning."
A Learning and Teaching Enhancement Fund is also available for projects that improve learning and teaching and involve more than one academic department or has uses across departments.
The Fund focuses on areas highlighted in the Aberystwyth / Bangor Learning, Teaching and Widening Access Strategy and offer up to a maximum of £2,000 per project.
Dr Hannah Dee from the Department of Computer Science, Dr Sarah Riley from the Department of Psychology and Richard Williams and Dr Stephen Tooth of the Department of Geography & Earth Sciences were all successful with their bids.
AU27414