Renowned atmospheric physicist honoured as Fellow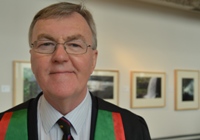 Professor John Harries
Wales' first Chief Scientific Adviser (2010-2013), Professor Harries led the team that produced the first direct observational evidence of an increase in the Earth's greenhouse effect between 1970 and 1997.
He is a past President of the Royal Meteorological Society, and of the International Radiation Committee and previously a board member of the Natural Environment Research Council.
An Emeritus Professor and Distinguished Research Fellow at Imperial College, he is also Fellow of the Institute of Physics, the Royal Meteorological Society, the American Geophysical Union and a member of the American Meteorological Society.
Professor John Harries was presented as Fellow on Monday 14 July by Professor Andrew Evans, Head of the Department of Mathematics and Physics.
Presentation of Professor John Harries as Fellow of Professor Andrew Evans, Head of the Department of Mathematics and Physics, Aberystwyth University.
'Professor John Harries is one of the world's most eminent atmospheric physicists and a proud Welshman.
He studied in Birmingham and London and grew his international reputation as a researcher and as a leader at the National Physical Laboratory, the Rutherford Appleton Laboratory, the British National Space Centre and at Imperial College, London.
His research specialism lies in the physics of the Earth's atmosphere, an area of great global importance. Among his many achievements is the first measurement of the atmosphere in the very far infra-red part of the light spectrum, and he has consistently been at the forefront, providing and interpreting the highest quality, reliable information using the latest technology. This resonates strongly with our research ethos here at Aberystwyth in developing the best instruments for materials and space applications.
He has led many large projects, for example bringing together 200 researchers in atmospheric science and space technology at the Rutherford Appleton Laboratory and building a world-leading research group at Imperial College at the core of international projects such as the Meteosat satellite launched in 2002. Among his many other roles, he has served as President of the Royal Meterological Society and Chair of the European Space Agency's Earth Observation Programme Board. In 2011 he was awarded NASA's Distinguished Public Service Medal and in 2014, the Mason Gold Medal of the Royal Meteorological Society.
In 2010, he was appointed as the first Chief Scientific Advisor for Wales, advising the First Minister and the Welsh Government on Science and Technology. He provided us with our first national Science Strategy, Science for Wales and initiated major programmes to bring the world's best scientists to Wales through Ser Cymru and to bring the top researchers in Wales together in three National Research Networks, are focused on addressing global challenges such as climate change.
In addition to physics, I share with Professor Harries two of his other main passions – family and Welsh Rugby, albeit with slightly different South Walian tribal loyalties for the latter… Professor Harries has family ties with Aberystwyth, we are delighted to see them here today. This has given him the opportunity to contribute to the lively discussions many of us on this stage today regularly have outside the school gates at Ysgol Gymraeg Aberystwyth, some of which have led to adventures such as last month launching a space capsule from the school playing fields.
Madam Vice-President, it is an honour and a pleasure to present to you Professor John Harries, as a Fellow of Aberystwyth University.'
Fellows 2014
Eleven Fellows are being honoured this week by Aberystwyth University during this year's Graduation ceremonies which take place at the University's Arts Centre from Monday 14 until Friday 18 July.
The title of Fellow is awarded to individuals who have a close association with Aberystwyth and the University, or who have made an outstanding contribution to professional or public life in Wales.
Also being honoured are:
D Geraint Lewis, author, former Education and Children's Librarian for Dyfed and Assistant Director of Education at Ceredigion County Council.
Jeremy Bowen, BBC Middle East Editor.
Sir Michael Moritz, Cardiff-born venture capitalist and philanthropist.
Rhodri Meilir, actor and Aberystwyth graduate who recently appeared in the National Theatre of Wales' highly acclaimed Mametz.
Ed Thomas, playwright, director and producer, and founder member and creative director of TV production company Fiction Factory.
Rhod Gilbert, comedian and radio and TV presenter.
Professor Bonnie Buntain, Assistant Dean Professor of Public Health at the University of Calgary in Canada and former Chief Public Health Veterinarian at the Food Safety and Inspection Service for the US Department of Agriculture.
Dr John Sheehy, Emeritus Head of Applied Photosynthesis and Systems Modelling Laboratory at the International Rice Research Institute and an alumnus of Aberystwyth University.
Brian Jones, farmer, entrepreneur, and founder and Managing Director of Castell Howell Foods Ltd.
Baroness Kay Andrews, Deputy Speaker of the House of Lords, former Chair of English Heritage and an Aberystwyth alumna.
AU28814