China visit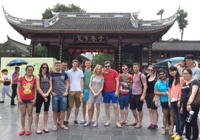 School of Management and Business Students during their two week visit to Southwest University of Finance and Economics (SWUFE) in Chengdu
A group of ten Aberystwyth students from the School of Management and Business have recently returned from China, where they gained first-hand experience of what it is like to be an inhabitant of the world's second largest economy at a time of profound social and economic change. They also made lasting friendships with their Chinese counterparts.
Dr Yizhe Dong and Mrs Dandan Wu, who are members of staff at Aberystwyth University, led the students on a two week study trip to the Southwest University of Finance and Economics (SWUFE) in Chengdu, China from 2nd until 14th June 2014.
SWUFE is one of China's most distinguished centres for the study of economics and management and, as the Chinese government seeks to move economic development in land, cities like Chengdu are experiencing rapid growth.
The School of Management and Business and SWUFE have established a strong relationship with student exchanges and are developing joint research programme on finance and economics.
Ten Chinese students from SWUFE were selected as ambassadors and coordinators for the programme. They were paired up with Aberystwyth's students to create a rich learning environment for all students involved. In the two weeks the SMB students received lectures from SWUFE staff and visited Chinese financial institutions.
They also took part in Chinese language lessons, traditional Chinese craft lessons and various trips and excursions, including a visit to the region's most famous inhabitants, the giant pandas.
All of the students had very positive comments and feedback about the visit.
Conor Taylor, a 2nd year student studying Accounting and Finance with Maths, described how he loved the trip because he "found learning about the operations of a Chinese bank to be a particularly insightful experience and learning about traditional Chinese culture, especially the Sichuan Opera".
Beth Griffiths, a 2nd year student studying Accounting and Finance/Economics (joint honours) said "I enjoyed learning about the culture of Chengdu and how it differs from ours. Also meeting all the SWUFE students."
The highlight of the trip, for John Fodor, a 2nd year student studying Business Finance, was "besides all the people I have met would be the Temple of Marquis, with its vast historical background it was an incredible experience and a pleasure to visit."
For 2nd year Accounting and Finance student, Andrew Thomas, his personal favourite part was "the traditional Chinese Opera show".
Will Woodcock, who is studying Business and Finance and in his 2nd year, loved "the interaction between ourselves and the SWUFE students then comparing our culture differences. I also really enjoyed seeing China's development in real practice after having researched and studied it back in the UK".
Andrew Palmer, 2nd year Accounting and Finance, said; "I have really enjoyed meeting new people whilst in Chengdu and the students at SWUFE have been particularly great in helping us understand more about China's extensive history and complex culture. Many thanks to Aberystwyth and SWUFE for making this experience possible!"
Steven McGuire, Director of the School of Management and Business, said: "I am delighted that our students had this opportunity. SWUFE has been an excellent host and partner, and we very much hope that we will build on this relationship." He added, "this trip was also made possible by generous donations to SMB over the years, for which I am very grateful."
AU27114