Student Employee of the Year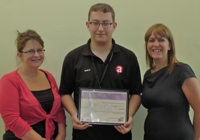 L to R: Sian Sherman (Food & Beverage Assistant Manager, Aberystwyth University Students' Union), Scott Roe (SEOTY winner 2014) and Bev Herrin (Aberystwyth University Careers Service).
Two Aberystwyth University students have scooped top awards at the 2014 Student Employee of the Year awards held by the National Association of Student Employment Services (NASES) for their work as student-staff members at Aberystwyth University Students' Union - AberSU.
The Student Employee of the Year Awards reward and promote the outstanding achievements and contributions from students who combine their study commitments with part-time work.
The nominations were judged at institution level, before going on to a regional judging panel.
Scott Roe works as a Food & Beverage Supervisor at the Union and was nominated by Assistant Manager Sian Sherman.
Scott won the 'Step up to Leadership' award at institutional level and the overall regional award for Wales.
This category recognised Scott's leadership skills in taking responsibility for projects or departments, supervising staff and showing creative thinking to leading the business.
Scott said; "I'm very thankful to have been nominated for this award. It's very motivational, and will put me in a good position for when I graduate."
Barbara Karp, who works as a student cleaner for the Union, was highly commended in the 'Above & Beyond' category at institutional level.
Barbara has been recognised for making a huge impact within the Union, going above and beyond the call of duty on a regular basis. Barbara's nominator, Tim Morgan, said; "Barbara is a dedicated, cheerful and hardworking individual and it's great to see her commitment acknowledged."
AberSU's Chief Executive Officer, John Glasby, said: "I'm delighted that the abilities and professionalism of Scott and Barbara have been recognised. Here at AberSU we strive to offer as many employment opportunities as possible for students, backed up by a robust training programme to enhance their employability when they graduate and leave us.
"It is very rewarding to see students develop their workplace skills over time and particularly pleasing when their outstanding performance is recognised in this way."
As a regional winner, Scott will take part in the Teach First Emerging Talent Programme at Brunel University, where he will gain an understanding of how to apply his skills and experiences in the wider graduate recruitment marketplace.
Scott will also attend the Student Employee of the Year (SEOTY) Awards Dinner at Brunel University on 8 July to celebrate his success, where the overall national winners will also be announced.
AU26914