The GO Wales Freelancer Academy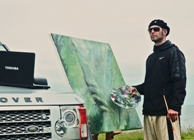 Art and Design graduate James Richards attended the 2013 Freelancer Academy
The last few years have seen increasing numbers of Welsh graduates beating the recession by using their high-level skills to start their own businesses.
The GO Wales Freelancer Academy is a fully funded, week-long training scheme designed to help entrepreneurial graduates move into the world of self-employment.
James Richards, an Art and Design graduate from Llanon near Aberaeron, attended the Freelancer Academy at Aberystwyth University in 2013.
James describes how he's taken a step in a new direction and how GO Wales has helped him achieve this; "I am a freelance graphic artist with engineering design skills and I applied to the GO Wales Freelancer Academy to develop my business networking skills, business contacts and to meet other freelancers. I was able to discuss recent experience of the freelance sector in Aberystwyth and explore local opportunities for career development and business enterprise."
Since completing the Freelancer Academy, James has expanded his portfolio of skills and his business to include a range of clients that he would not have normally reached otherwise.
"I have just recently made a long awaited and anticipated move into the world of teaching theory and practice, and continue to practice as a conceptual artist", he added. "The GO Wales Freelancer Academy continues to provide me with the tools to access a high quality working environment with excellent professional support from a range of like-minded business people."
The next GO Wales Freelancer Academy takes place at Aberystwyth University from the 4th – 8th of August. The closing date for applications is July 11th and graduates can apply online by visiting http://www.gowales.co.uk/Graduate/FreelancerAcademy
GO Wales is a Welsh Government and European Social Fund project that brings together Welsh businesses and graduate skills to stimulate the Welsh economy.
GO Wales makes it possible for students and graduates to develop their careers in Wales through quality work experience and training opportunities with businesses. The project contributes significantly to the development of a knowledge economy in Wales; businesses have access to higher level skills and fresh ideas to support growth and development.
Managed by the Higher Education Funding Council for Wales (HEFCW) the project is delivered by University Careers Services in Wales.
GO Wales receives funding from the Welsh Government and the European Social Fund.
AU27014