University sponsors Ras yr Iaith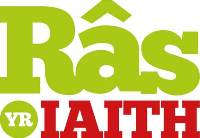 A race which aims to promote the use of the Welsh language by bringing together Welsh speakers, non-Welsh speakers and learners is being held this Friday 20 June.
Ras yr Iaith (the language race), which has been sponsored by the University, will start at 8.45am in Machynlleth and make its way to Aberystwyth University's Arts Centre at 10am.
The race will also visit Tregaron, Lampeter, Aberaeron, New Quay, Llandysul and Newcastle Emlyn and will finish around 7.30pm that night at the Quay in Cardigan.
The Aberystwyth circuit is 5km and will start at the bottom of stairs at the Arts Centre.
The race has a special baton which will be passed on in certain places in Aberystwyth; Aberystwyth University's Arts Centre, The University's Vicarage Fields, Llys y Brenin, Gerddi Rheidiol and finally, Llwyn-yr-Eos School in Penparcau.
Anyone is welcome to participate and more information can be found here: http://rasyriaith.org/
Dr Rhodri Llwyd Morgan, Pro Vice-Chancellor with responsibility for the Welsh Language and Culture at Aberystwyth University, said, "We are very proud to be supporting Ras yr Iaith and hope to see many of our colleagues put their trainers on and join us for all or part of the leg at Aberystwyth. It might be of comfort to some that the leg from the Arts Centre to Vicarage Fields is mostly downhill.

"As a University we have helped produce banners and leaflets for the race and several colleagues are working as volunteers to support the arrangements on the day. We wish Ras yr Iaith every success and recommend the event as an inspiring way to raise awareness and support for the Welsh language." 
Sion Jobbins, one of the organisers of the race, explains, "Anyone can participate in this race. It is a fun run for the language and we warmly invite anyone to attend or get involved.
"We will be going at a leisurely pace since it's not a competitive race as such. The winner will be the Welsh language, our communities and our health as we draw people of all ages and backgrounds together. Be part of the fun and join us during the day."
If you want to run or want to help during the day, please contact Jaci Taylor from the Welsh for Adults Centre at the University on jmt@aber.ac.uk or 01970 628462. Or e-mail the central e-mail address: post@rasyriaith.org
AU25514