IBERS at Gardener's Question Time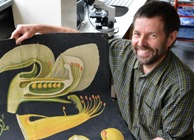 Dr John Warren
Dr John Warren, Director of Learning and Teaching at Aberystwyth University's IBERS will do a session of James Wong in Conversation and deliver a talk at the gardening event of the year, when BBC Radio 4's Gardeners' Question Time is bringing its annual Summer Garden Party to the National Botanic Garden of Wales for the first time on Sunday June 29.
James Wong is the Kew-trained botanist, BBC science presenter, RHS Ambassador, and self-confessed Geek.
Dr Warren is a plant ecologist with research interests in the maintenance of diversity and enhancement of conservation value. His James Wong in Conversation session will discuss growing more exotic vegetables, and in his own inimitable style, his talk is entitled '50 Shades of Green – the exotic sexual practices of plants'.
There will also be a demonstration of IBERS PhD student Lizzy Donkin's computer model that may help gardeners avoid pests by mixing their rows of peas and carrots and IBERS PhD student Sam Thomas will be talking about his research into the unusual weeds found in our glasshouses.
Professor John Doonan and Dr Fiona Corke will also be at the party to talk about the unique BBSRC funded National Plant Phenomics Centre at IBERS.
The GQT Summer Garden Party is a unique opportunity to enjoy two recordings of the BBC's flagship gardening radio programme.
There will be an opportunity to meet the GQT team, put questions to them in person and there'll be demonstrations and horticultural happenings all across the Garden, including music, food and activities for all the family.
The party will feature the pick of the crop of gardening gurus, including Bob Flowerdew, Bunny Guinness, Chris Beardshaw, Matthew Wilson, Pippa Greenwood, Matthew Biggs, Carole Baxter and GQT chairmen Eric Robson and Peter Gibbs.
The Summer GQT Garden Party will take place at the National Botanic Garden of Wales, Llanarthne, Carmarthenshire, SA32 8HN on Sunday June 29th.
Tickets for the event cost £8.50 (plus a £1.50 booking fee) and are now available in advance by calling 01558 667148.
If you want more info about the day, email gqt@gardenofwales.org.uk  
AU24014