Ruth shortlisted for Aber First Award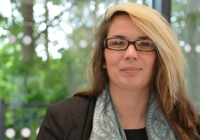 Ruth Fowler
Ruth Fowler, a member of staff at Aberystwyth University has been shortlisted for the Unsung Heroes Award at the Menter Aberystwyth's Aber First Awards.
Ruth is an Administrator for the WISE Network and a Residential Tutor at Pantycelyn Halls of Residence at the University.
Her shortlisting comes in recognition of her role as LGBT Network Coordinator of Enfys Aber, Aberystwyth University's staff lesbian, gay, bisexual and transgender network.
As part of her role, Ruth has established a series of Aberration events at Aberystwyth Arts Centre, raising £2000 for LGBT charities in Russia and Uganda.
Aberystwyth Arts Centre and the University's Students' Union are also shortlisted for awards.
The Arts Centre has been nominated for the Best Online Marketing Campaign in the Online Category, and the Best Visitor Attraction in the Tourism Category.
Both Aberystwyth University's Students' Union and the Arts Centre Theatre Bar have been shortlisted for the Best Live Music Award in the Pubs and Bar Category.
Congratulating all the shortlisted participants, Dr Rhodri Llwyd Morgan, Pro Vice-Chancellor for the Welsh Language and Culture, and External Engagement said: "We feel extremely proud that the efforts of our staff and students are being recognised at the Aber First Awards and congratulate all the individuals and organisations for contributing towards making Aberystwyth such a great place to live and work. All the University's nominees are great examples of excellent Town & Gown collaboration."
The winners of the Aber First Awards will be announced at a ceremony held on Friday 6 June.
The Aber First Awards started in 2008 and are held every other year to recognise the achievements and contributions of individuals, community groups and businesses in Aberystwyth and the surrounding area.
The Awards are organised by Menter Aberystwyth, a regeneration partnership for Aberystwyth and the surrounding area, with the support of a number of organisations and businesses.
This year, Aberystwyth University is sponsoring the Best Visitor Accommodation category.
AU24814