The Guardian university league table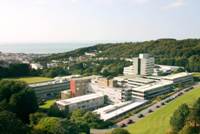 The Penglais campus
Aberystwyth University is investing over £100m in new facilities, including new student accommodation that will open later this year, upgrading teaching and study facilities, developing a major new Innovation and Enterprise campus at Gogerddan, and the redevelopment of the iconic Old College, the spiritual home of the University.
University league tables vary greatly in nature, content and the method by which they are compiled. Consequently the performance of individual institutions will vary. In the recent YouthSight survey published by the Times Higher Education (15 May), Aberystwyth climbed 1 place to 46th out of 111 universities.
League tables are also historical. The Guardian University League Table places much of its emphasis on student satisfaction and reflects the disappointing NSS results published in August 2013 which in turn reflects the experience of students who joined the University in 2010. These results were influenced by many years of underinvestment in learning, teaching and accommodation facilities. The University's ambitious investment programme is putting this right. Also, the Guardian University League Table does not take any account of research; an area which the University is particularly strong.
The University is also encouraged that the latest research undertaken by i-Graduate (data collected during autumn 2013) reveals that Aberystwyth University enjoys very high satisfaction ratings amongst our international and European Union students. Students ranked Aberystwyth University 1st in the world for "Managing research", 7th in the world for "Personal tutors" (95.4%), 4th in the UK for "Financial support" and amongst the top 10 in the world for "safety".
Aberystwyth is one of the top 40 research universities in the UK according to the Times Higher Education World University Rankings 2013-14 (published in October 2013), and in the top 350 universities in the world.
Aberystwyth is 35th in the UK for 'Research Quality' (Sunday Times University Guide 2014) and was the winner of the Times Higher Education Award for Outstanding Contribution to Innovation and Technology for 2013.
Looking to the future, at the end of 2012 the University launched its new Strategic Plan which sets out where Aberystwyth University aims to be in 2017. Developed following extensive consultation with our students and staff, it is ambitious and sets out how the University aims to become a leading interdisciplinary institution, making an impact in Wales, the UK and globally.
The focus is on creating opportunities for students and staff, on generating research that makes and impact, delivering inspiring teaching, building on the University's international reputation, working in partnership at local, national and international levels, and investing to ensure a sustainable future for the University and for Aberystwyth.
The league tables of the future will tell their story, but it is by addressing these priorities that the University will really change the experience of students and staff, and build on what is widely acknowledged as one of the best student experiences in the world.
AU24414