Director of Ethics and Equality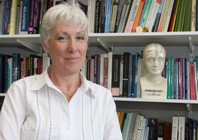 Professor Kate Bullen
Professor Kate Bullen has been appointed as Director of Ethics and Equality at Aberystwyth University.
Working alongside the University Executive Group, Professor Bullen will be responsible for developing, publicising and assuring the University's strategic direction in ethics and equality, and for ensuring outcomes are monitored and delivered successfully.
Professor Bullen is currently Director of the Institute for Human Sciences. She joined Aberystwyth University in 2008 in order to establish the Department of Psychology, and before this was a lecturer at Swansea University.
In addition to University commitments, Professor Bullen is Chair of the British Psychological Society Ethics Committee, which has responsibility for ethics and equality matters in UK psychology, and represents the BPS as the UK member on the Ethics Board of the European Federation of Psychology Associations.
She is also psychology lead for the South Wales Cancer Network and has been an expert member of the Research Ethics Committee for Wales since 2010, following 10 years' service as Vice-Chair of the South West Wales Research Ethics Committee.
Professor Bullen led the self-assessment teams that worked to develop the University's applications to the Equality Challenge Unit's Athena SWAN and Gender Equality Mark applications in April.
Speaking of her appointment, Professor Bullen said; "I am absolutely delighted to have the opportunity to undertake the role of Director of Ethics and Equality at Aberystwyth. There is an increasing emphasis across the UK Higher Education sector on both these important areas of activity. National government, and bodies such as Research Council UK, recognise the importance of equality of opportunity, diversity and ethical integrity as central to higher education especially at a time of rapid change and the globalisation of education. One of the aspects of working at Aberystwyth I have always valued is our sense of community. This new role will provide many opportunities for me to work with students and staff in all departments to further develop our ethics and equality framework and practice."
Professor April McMahon, Vice-Chancellor of Aberystwyth University said: My warmest congratulations to Professor Bullen on on her new appointment. This is the first Director role of its kind at Aberystwyth University and, we believe, a first in the sector and aims to bring together these two very important areas, ethics and equality, together under strong central leadership. This is an exciting and important development as we take the University on into its next stage of development."
Professor Bullen takes up her new role on 1st of August 2014.
AU21514