Aber alumnus chaired Eisteddfod bard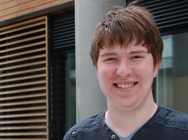 Gruffudd Antur
Gruffudd Antur, an alumnus of Aberystwyth University's Department of Mathematics and Physics, has been announced as the Meirionnydd 2014 Urdd National Eisteddfod chief bard.
The chair is presented to a poet for composing a poem, no longer than 100 lines on the subject 'Pelydrau' (Rays).
'Gwenno', Gruffudd Antur's pseudonym, came to the top of the list for his poem. The Judges, Mari George and Eurig Salisbury, explained; "From the first reading, we were thrilled with Gwenno's work. It is a love song and unlike every other competitor, the standard of Gwenno's ode was consistently high from start to finish. The mature charm of the cynghanedd ensures some of these lyrical lines will remain in our minds:
Yr hen ddyheu yn troi'n ddall
yn dawel; minnau'n deall
fod heulwen loywa'r ennyd
yn gorfod darfod o hyd,
a rhaid i'r ha' ei droi'i hun
o hyd yn hydref wedyn.
"Full credit goes to Gwenno and we are honoured to chair this deserving bard," they added.
Gruffudd has been competing and involved with the Urdd all his life, as a member of Adran Llanuwchllyn, Ysgol y Berwyn, Aelwyd Pantycelyn and Aelwyd Penllyn.
He says that he is indebted and grateful to his family, friends, teachers, lecturers and everyone he knows for nurturing his interests in poetry and the 'pethe' and for making it all great fun along the way - "they know who they all, I hope!" said Gruffudd.
A celebrated poet, Gruffudd won the Chair at the Urdd National Eisteddfod in Eryri in 2012, and for Aberystwyth at the Inter-collegiate Eisteddfod in Cardiff in 2011 and Bangor in 2012. He was also the chaired poet at Llanuwchlyn Eisteddfod in 2011.
Commenting on Gruffudd's success, Dr Rhodri Llwyd Morgan, Aberystwyth University's Pro Vice-Chancellor for Welsh Language and Culture, and External Engagement commented: "It's a pleasure to congratulate Gruffudd on his latest achievement. Gruffudd made a great contribution to Aberystwyth University's literary and cultural life as an undergraduate and we're proud to see his accomplishments going from strength to strength."
AU23614