Reshaping our University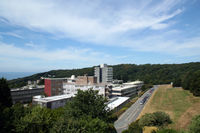 Aberystwyth University
The Council has approved a Strategic Plan for 2012-17 to deliver an internationally competitive Aberystwyth University, operating sustainably, and providing an outstanding university education and student experience.
The University is investing in research and teaching excellence, including the Aberystwyth Innovation and Enterprise Campus at Gogerddan, and our innovative programme to refurbish all centrally timetabled teaching rooms. The University has an ambitious plan for increasing student numbers from current levels, and recognises that enhancing the student experience and teaching portfolio is key to this. Our academic Institutes are focusing on the distinctive teaching and research which contributes towards making Aberystwyth a special place. We are planning for a future Vet School for Wales, a Campus in Mauritius that will benefit all our students, both at home and internationally, and new programmes at both undergraduate and postgraduate levels. Our new Integrated Welsh Language Strategy will help us support and promote the use of Welsh in all the University's activities.
This is a period of unprecedented change in the Higher Education sector in the UK.
Within this continuously changing environment all universities are having to adapt. Aberystwyth is no exception. For example, in September 2011, we saw exceptional student recruitment figures. However, following the introduction of student fees, and in particular the imminent removal of controls on student numbers in England, competition for students is increasing. Alongside many other organisations and businesses, the University must confront further reductions in funding and increases in commitments including pension liabilities.
Aberystwyth University is listening to the student voice, including through the sometimes disappointing league table results that reflect a historic position, and the direct feedback we receive from individual students and the excellent Students' Union. The University is ensuring that it is completely focused on the student experience, teaching excellence and research that makes a difference. The League Tables are largely driven by data from surveys and statutory returns which can be a numbers of years old - and in a university of Aberystwyth's size we can be vulnerable to minor changes in results that have an inordinate impact on league table position.
However, league tables and surveys which take account of the most recent data available, indicate that Aberystwyth is improving its position. For example, Aberystwyth is one of the top 40 research universities in the UK according to the Times Higher Education World University Rankings 2013-14 (published in October 2013), and in the top 350 universities in the world. Aberystwyth is 35th in the UK for 'Research Quality' (Sunday Times University Guide 2014) and was the winner of the Times Higher Education Award for Outstanding Contribution to Innovation and Technology for 2013. The latest research undertaken by i-Graduate (data collected during autumn 2013) reveals that Aberystwyth University enjoys very high satisfaction ratings amongst our international and European Union students. Students ranked Aberystwyth University 1st in the world for "Managing research", 7th in the world for "Personal tutors" (95.4%), 4th in the UK for "Financial support" and amongst the top 10 in the world for "safety". In addition, the recent Student Led Teaching Awards, coordinated by the Students' Union and supported by the University, received over 400 nominations. This shows genuine recognition of excellence in teaching and support, and reflects the commitment to enhancing the student experience across the University.
Therefore, the University has embarked on a programme of change to assure our future sustainability, while ensuring that the student experience is enhanced and our teaching offer meets the needs of future student populations. The University is working with our staff, Trades Unions, and the Students' Union to achieve an annual 4% reduction in our costs over the next three years. This will be achieved through portfolio renewal, changes to service areas and more effective use of resources. Following the successful development of academic Institutes, this is the next necessary step to make Aberystwyth University sustainable for the future, and to ensure we generate the surpluses we need to develop our estate and new initiatives.
We intend to achieve the essential reduction in cost across the University, whilst at the same time enhancing the student experience and research profile. Our aim is a leaner organisation which meets the needs of our current and future student population. The Academic Institutes are working, with their Heads of Department and student representatives, to review and refresh the courses and programmes offered, to guarantee a clearly focused and attractive range of courses. The University is committed to maintaining our reputation for teaching excellence, investing in innovative delivery, and improving student employability.
As with any University, our programmes are demand led and this will result in discontinuing some programmes that are no longer attractive to students, whilst at the same time developing new, distinctive and relevant courses, delivered through varied and innovative means.
The University's Support Services are working together to enhance fit for purpose and easily accessible services for our students and staff. We will at the same time reduce complexity and cost. Colleagues within service areas are developing lean, customer-focused ways to enhance and simplify service delivery. Students and staff will get the right support at the right time more efficiently. We know that this can also release immediate savings; for example the Student Energy Saving Switch Off Campaign delivered an instant saving in energy costs.
The University is confident that the present challenges represent an opportunity which we are determined to seize. With the enthusiasm, knowledge and expertise of our staff and our fantastic student community, we continue to look forward to a successful and sustainable future.