HR for the modern business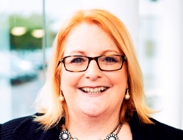 Fiona Roberts, HR Director, Volkswagen Group UK Ltd
Aberystwyth University's Business Network welcomes Fiona Roberts, HR Director for Volkswagen Group UK Ltd as keynote speaker at an event to be held on Monday 19th May from 5.30pm.
With a refreshed format for summer 2014, this free event is set to offer professional networking opportunities and a thought provoking presentation on the theme of 'HR for the Modern Business'.
The business fair, which forms part of the event, will include the opportunity to discover more about accessing expertise, services and current funding schemes offered through the University and other external organisations.
Speaking about the event, Gary Reed, Director of the Department of Research, Business & Innovation said, "This promises to be an informative networking event, providing practical insights into managing your organisation's human resources. We hope you can join us".
Places at this event are limited; for further information and to register to attend, please visit www.aber.ac.uk/network . 
Alternatively, to speak with a member of the Business Development team contact the Department of Research, Business & Innovation, Aberystwyth University ( business@aber.ac.uk / 01970 622385).
AU21414