'Language geography and the mapping of Celtic Britain and Ireland'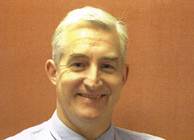 Professor Charles Withers
Professor Charles Withers, Ogilvie Professor of Geography at the University of Edinburgh, will deliver the O'Donnell Lecture at Aberystwyth on Wednesday 7 May.
The lecture takes place at the Aberystwyth Arts Centre Cinema, starting at 6pm.
Titled 'Language geography and the mapping of Celtic Britain and Ireland', the lecture will examine the 'traditions' of language mapping in the later nineteenth century.
His work falls into two distinct fields: the historical geography of language and identity, and the history of cultures of geographical knowledge.
Professor Withers is a Fellow of the British Academy and of the Royal Society of Edinburgh, and was awarded the Founder's Gold Medal of the Royal Geographical Society (with the Institute of British Geographers) for 'world-leading work in cultural and historical geography' in 2012.
In the same year, his co-authored Scotland: Mapping the Nation was awarded Scottish Research Book of the Year by the Saltire Society of Scotland.
His co-authored book, Travels into Print: Exploring, Writing, and Publishing with John Murray 1773-1859, will be published by the University of Chicago Press in the spring of 2015.
Professor Withers is currently working on the historical geographies of the Prime Meridian, a project supported by a Leverhulme Major Research Fellowship.
AU18114