Virtual Aberystwyth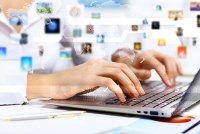 Take part in a Virtual Open Day at Aberystwyth University from the comfort of your home on Wednesday 30 April.
If you're thinking of coming to Aberystwyth, already at university, returning to study or generally want to develop your skills, get all the information you need at Aberystwyth's Virtual Open Day.
Held between 6-8pm, this will give individuals an opportunity to find out more about undergraduate and postgraduate study and life at Aberystwyth.
Take a tour of the campus, listen to talks, watch short videos of life at Aberystwyth and ask live question to our experts should you have any queries.
Dr Russell Davies, Marketing Manager at Aberystwyth University, said: "Whether it's getting a taster for student life, gathering information about a certain course or wanting to ask a specific question to one of our experts, the virtual open day will provide you with the information you need to plan towards your future."
The Virtual Open Day also has plenty of information about Student Support Services, the Students' Union, University accommodation, the town, fees, funding, courses, scholarships and bursaries.
To register, visit the Aberystwyth University Open Days webpage on: http://www.aber.ac.uk/en/open-days/
Aberystwyth University has the best range of Scholarships, Bursaries and Awards of any university in the UK (Higher Expectations Report / Youth Sight 2012-13) and is the safest University in England and Wales to study (Complete University Guide 2013 / Daily Mail 22/07/13).
AU16314