William Salesbury Scholarship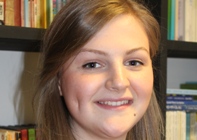 Megan Mai Cynllo Lewis
Megan Mai Cynllo Lewis from Carmarthen will be the first to receive the Coleg Cymraeg Cenedlaethol William Salesbury Scholarship worth £5,000.
The scholarship was offered for the first time this year by the William Salesbury National Trust to a university student who intends to study a course that is being taught entirely through the medium of Welsh.
The scholarship will help Ysgol Bro Myrddin pupil Megan during her time at Aberystwyth University's department of Theatre Film and Television from September onwards.
In her spare time Megan produces films, volunteers and plays musical instruments. She has produced a film about Welshness, mentored younger pupils in drama clubs and is an enthusiastic member of the schools's woodwind band.
Megan said; ''It with great pleasure that I receive the William Salesbury Scholarship and generous financial support. I would like to refine my drama and media skills with the hope of securing experience for the future. The financial support will be a great help over the next three years and extremely useful when investing in resources and necessary equipment for the course.''
Rev. John Gwilym Jones, Chairman of the William Salesbury National Trust concluded; ''I would like to thank everybody who submitted applications for this year's scholarship. We received numerous applications by prospective students in high schools and further education colleges across Wales and some mature students. I would like to wish Megan well with her studies and we look forward to supporting and offering the same opportunity to another prospective student next year.''
Coleg Cymraeg Cenedlaethol
The Coleg Cymraeg Cenedlaethol is a national body which plays a key role in planning, supporting and developing Welsh medium education and scholarship at universities in Wales. It works in partnership with universities across Wales and funds over 80 lecturing posts and numerous high quality modules and resources.
AU16414