International Student Barometer reveals high satisfaction ratings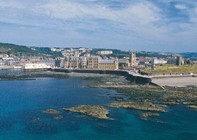 Aberystwyth University's Old College
The latest research undertaken by i-Graduate reveals that Aberystwyth University enjoys very high satisfaction ratings amongst our international and European Union students.
Students ranked Aberystwyth University 1st in the world for "Managing research", 7th in the world for "Personal tutors" (95.4%), 4th in the UK for "Financial support" and in the top 10 in the world for "safety".
The findings are based on data collected during autumn 2013.
Professor John Grattan, Pro Vice-Chancellor International and Student Experience said; "Aberystwyth is a truly international university, welcoming undergraduate and postgraduate students from more than 90 countries. These latest i-Graduate findings underline the students' satisfaction with the language and research management support we provide for international students, the fantastically warm welcome they receive here, and their appreciation of the safe studying environment Aberystwyth offers.
"i-Graduate is one of a number of studies undertaken by Aberystwyth to assess student satisfaction. The information provided is invaluable for informing the development of the student experience so that Aberystwyth remains attractive to international students in an increasingly competitive market."
i-Graduate's International Student Barometer tracks decision-making, expectations, perceptions and intentions of international students from application to graduation.
The findings are based on feedback from over one million students and benchmarks drawn from hundreds of the world's leading universities.
Summary of Aberystwyth University's performance according to the i-Graduate study undertaken in autumn 2013:
1st in the world for "Managing research"
93.8% of international and EU students satisfied with their "Academics' English"; ranked in the top 10 in the world and 4th in the UK
2nd in the UK for high satisfaction score for "Language support"
98.0% satisfaction with "Safety"; top 10 ranking in the world and 2nd in the UK
3rd in the UK for "Good place to be"
2nd in the world and 2nd in the UK for "Host friends" (Living section)
4th in the world and 3rd in the UK for "Meeting staff"
7th in the UK for satisfaction with "living costs"
4th in the UK for "Financial support"
95.4% satisfaction rating for "Personal tutors"; ranked 7th in the world and 2nd in the UK
95.4% satisfaction rating for "Clubs & societies"; ranked in top 10 in the world and 9th in the UK
96.8% satisfaction for "Host friends"; 9th in the world and 7th in the UK
2nd in the world for students' satisfaction with "Response to offer"
91.9% satisfaction with time taken between applying and receiving an offer for a place at Aberystwyth University
AU15014