Victory in the Varsity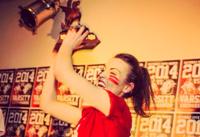 Celebrating Aberystwyth's victory in the Varsity
Aberystwyth University's students triumphed at the Aber-Bangor Varsity games on Saturday 29 March 2014. Now in its 8th year, the annual competition sees Aberystwyth leading the total number of wins by 5 to 3.
A total of 35 sporting matches were held between the two Universities, which were held at Aberystwyth for the second consecutive year, due to Bangor's University's refurbishment of its sporting facilities.
Aberystwyth scooped the win with a clear margin of 22 wins to Bangor University's 13.
Olivia Prewett, Activities Officer at Aberystwyth University's Students' Union, commented; "This weekend we saw over 500 students competing against one another in a range of sports from traditional rugby to a more contemporary dance-off, there's something for everyone.
"I was confident that Team Aber would succeed in retaining the trophy and taking in the lead in our total number of Varsity wins. We have an excellent range of sporting clubs and societies, and fantastic supporters and cheerleaders, which all contribute to Aber's success."
Aberystwyth University has over 150 clubs and societies which are coordinated by an award winning team of Student Officers at the Students' Union. The University also boasts one of the highest proportions of students who are members of a student society within UK universities.
Speaking of the win, Professor April McMahon said: "Aber and Bangor Universities have a longstanding relationship, more often than not based on positive joint working and a mutually benefiting partnerships in research and some shared services.
"However, when it comes to sporting activities, and the annual Varsity in particular, it's a very fierce, but healthy, rivalry. I am delighted that Aberystwyth took the trophy for the second year in a row, and I congratulate all the students on their sporting achievements.
"I would also like to thank all the students, staff and volunteers who helped to ensure the success of the games. The excellent services provided by the St John's Ambulance volunteers ensured that any bumps or scrapes gained through sporting endeavours were dealt with promptly and professionally."
AU13414