BBC's Robert Peston presents Gregynog Lecture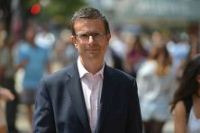 Robert Peston
The BBC's Economics Editor and Honorary Fellow of Aberystwyth University, Robert Peston, will discuss the British economy at Aberystwyth University this Thursday 3 April.
Entitled Have we fixed the mess – are the rich economies of the West mended, the lecture will be held at the Great Hall at Aberystwyth Arts Centre and forms part of the University's Gregynog Public Lecture Series.
Widely acclaimed for his work during the Northern Rock banking crisis, Robert Peston has won numerous awards for his journalism including Journalist of the Year, Specialist Journalist of the Year and Scoop of the Year (twice) from the Royal Television Society, Performer of the Year from the Broadcasting Press Guild, and Broadcaster of the Year and Journalist of the Year from the Wincott Foundation.
Prior to joining the BBC, he was political editor and financial editor of the Financial Times, City Editor of the Sunday Telegraph and a columnist for the New Statesman and Sunday Times.
He has published three critically acclaimed books, How Do We Fix This Mess, his analysis of the flaws in the global financial and economic system, Who Runs Britain?, his best-selling account of who is to blame for the economic and financial crisis of 2007-9, and Brown's Britain, a biography of Gordon Brown and analysis of the New Labour government.
Robert Peston was presented as Fellow of Aberystwyth University in July 2011. He is also founder of the education charity, Speakers for Schools.
Admission to the Robert Peston lecture is free and the event is open to members of the University as well as the general public. The lecture will begin at 6pm in the Great Hall at Aberystwyth Arts Centre and is in association with the Institute of Welsh Affairs.
The Gregynog Lecture was established as a result of a benefaction made by Miss Gwendoline Elizabeth Davies and Miss Margaret Sidney Davies of Gregynog Hall (formerly Plas Dinam, Llandinam). The Gregynog Gift, made in July 1936, was a Trust Fund administered by the College. Its annual revenue was to be spent on 'the encouragement of the study of Music, Geography and Anthropology'.
The first Gregynog Lecture was delivered by Sir John Edward Lloyd on 'The History of Ceredigion' during the 1936/7 academic year.