Britain and the Palestine Question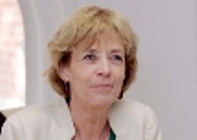 Professor Rosemary Hollis
Professor Rosemary Hollis, a leading analyst of Middle Eastern affairs and Professor of Middle East Policy Studies and director of the Olive Tree Programme at City University London, will discuss 'Britain and the Palestine Question 1914-2014' at the University on Thursday 27 February.
The David Davies Memorial Institute Annual Lecture will start at 6pm and will be held in the Main Hall at the International Politics Building. The event is free and open to the public.
The David Davies Memorial Institute Director, Jan Ruzicka, says, "This promises to be a major and comprehensive statement on British foreign policy towards Palestine over the last century. The Annual Lecture will cover a very important topic for Britain, the Middle East, and wider world, and I would encourage everyone to attend."
Professor Rosemary Hollis' writing, teaching and research focuses on international political and security issues in the Middle East, particularly UK, European, EU and US relations with the region and the international dimensions of regional conflicts.
Prior to joining City University in March 2008 Professor Hollis was Director of Research at Chatham House (the Royal Institute of International Affairs) for three years, with overall responsibility for the research and publications output of the institute, including the formulation, funding, quality and delivery of projects.
From 1995 to 2005 she was Head of the Middle East Programme at Chatham House, having spent five years in a similar post at the Royal United Services Institute for Defence Studies.
During the 1980s she was a lecturer in Political Science and International Politics at George Washington University in Washington, DC, where she gained her PhD in Political Science, focusing on Britain and the Middle East.
She also holds a BA in History and an MA in War Studies from the University of London, King's College.
In her work with the Olive Tree Programme, Professor Hollis is exploring the pedagogical applications of area and conflict studies for young people in conflict. A Political Scientist herself, she is engaged in interdisciplinary research on conflict with colleagues in Psycho-therapy, Social Anthropology, Theology and History.
AU5414