Two prolific artists on show at the School of Art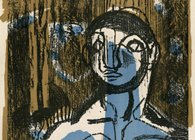 Keith Vaughan's lithograph 'The Woodman'
An exhibition of fifty works including drawings, prints & photographs by British artists Keith Vaughan (1912-1977) and works by Ray Howard-Jones (1903-1996), best known for her impressionistic seascapes and paintings of the coastline of Wales, starts today (17 February) at the University's School of Art.
This is a touring exhibition of works by Rose Marie (Ray) Howard-Jones who attended the Slade School of Art where she was taught by Henry Tonks and later worked in the National Museum of Wales.
During WWII, she recorded loadings for D-Day and was one of only a small number of officially accredited female war artists.
Howard-Jones travelled extensively through Europe after the war and became closely associated with Wales, especially the island of Skomer, where she spent the summer for several years. She had her first solo exhibition in 1935 and afterwards exhibited widely.
Keith Vaughan's work explores the male figure and pictorial space and is part of the collection of nearly 500 Vaughan items held in the School of Art. This work has never been the subject of an exhibition before, and presents a fresh and original view of this complex artist.
Vaughan, a self-taught artist, worked as an art teacher at the Camberwell College of Arts, the Central School of Art and later at the Slade School.
Initially influenced by Graham Sutherland, Vaughan's early work was Neo-Romantic in spirit and in the late 1950s his works became increasingly abstract.
The exhibition looks at a wide range of works in different media: drawings for some of his most important book illustration commissions, his experiments in print-making, and his photographs, some of which formed his own selection collected in Dick's Book of Photographs (assembled around 1939).
The fully illustrated book which accompanies the exhibition, published by Sansom & Co, contains three essays based on new research on Vaughan and his times by Colin Cruise, Prof Robert Meyrick, Dr Harry Heuser and Simon Pierse of the School of Art. The publication has been supported by The Derek Williams Trust, The Hargreaves and Ball Trust and Aberystwyth University.
The Howard-Jones exhibition runs until 21 March 2014 and Vaughan's exhibition is on show until 28 March 2014.
AU6714