Calling on all student entrepreneurs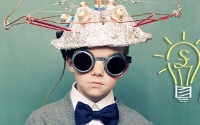 Those wanting to participate in this year's student business competition, InvEnterPrize, have two weeks to hand in their business plan for a chance to win a prize worth up to £20,000.
The competition, open to all students (undergraduate and post-graduate) attending Aberystwyth University, is in its second year.
Entries are encouraged from individuals or teams with inventions, business start-up ideas and other ambitious plans and the competition has been made possible through the Aberystwyth University Annual Fund, funds collected from alumni to support a number of projects.
The winner will be chosen via a Dragon's Den style panel of industry experts which comprises seven prominent Aberystwyth alumni.
Joining the panel for the first time this year is David Sargen, Managing Partner of Derivatives Risk Solutions LLP based in London. For a full list of the panel members, go to http://www.aber.ac.uk/inventerprize%20
Last year's InvEnterPrize winner was Jake Stainer. The Marketing and Spanish student is the creator of an online language-learning website called Papora www.papora.com 
The 2014 winning entry will receive a generous prize package including support and investment worth up to £20,000 to start the business. In addition, all shortlisted finalists will receive expert advice from a panel of successful entrepreneurial alumni.
Tony Orme, Enterprise Manager at Aberystwyth University's Department of Research, Business & Innovation said; "You still have time to fill in an application form for this exciting competition which could see your idea turn into a successful venture. This is a fantastic opportunity to turn that idea into a reality and start your own business.
"Not only will the winner receive financial help, but the backing and support of seven great business men and women who will be able to provide invaluable guidance and advice, which is so crucial for a young entrepreneur and for a start-up business."
To keep up to date with news relating to the competition, visit http://www.aber.ac.uk/inventerprize%20
Working in partnership with the Development and Alumni Relations Office, InvEnterPrize is organised by the Department of Research, Business & Innovation with support from alumni donations through the Annual Fund 2013/4 (see http://jump.aber.ac.uk/?rgnk for more information).
AU7114