Senior appointments announced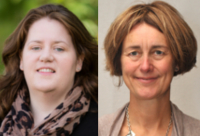 Alwena Hughes Moakes and Louise Jagger
Alwena Hughes Moakes has been appointed Director of Communications, Marketing and Public Affairs and Louise Jagger has been appointed Director of Development and Alumni Relations.
Alwena is currently the University's Policy and Executive Officer, heading up the Vice-Chancellor's Office. An award winning PR and communications professional, she joined the University in 2009 from Aberystwyth based PR agency FBA having previously worked in Local Government, the National Public Health Service, and the private sector.
An Environmental Science graduate of Aberystwyth University, she also holds a MA in Management of Change and a Postgraduate Diploma in Public Relations. Alwena is also a former President of the University's Students' Union and UMCA (Undeb Myfyrwyr Cymraeg Aberystwyth) – Aberystwyth's Union of Welsh Students.
Speaking of her appointment, Alwena said; "I am delighted to be appointed to this role and am excited to be leading and enhancing the University's communications, marketing and public engagement agenda.
"Aberystwyth University is a fantastic institution, which I, like many other alumni, staff and students, hold very dear. With exciting and ambitious plans for the future, I look forward to working with colleagues to further promote and celebrate the University's numerous successes."
Alwena takes up her new post on 24 February.
Louise Jagger has over 25 years experience in fundraising within the UK, having led major capital appeals, fundraising campaigns and regular giving programmes for a range of charities, including Scope, NCH and NSPCC.
Her career has spanned a range of sectors including heritage organisations, museums and education. Louise has also contributed to UK and international initiatives to develop fundraising as a profession and to measure the impact of philanthropic support and engagement.
An alumna of Bath University with a BA in European Studies, Louise was awarded an MSc Econ in International Politics in 2013 from Aberystwyth University, having specialised in Welsh Politics and Society and the challenges for the voluntary sector in post-devolution Wales.
An Aberystwyth resident and Welsh language learner since she relocated from London with her family in 2011, Louise has supported a Ceredigion based homelessness charity Cymdeithas Gofal The Care Society though her MSc research and through a capacity building programme to establish a volunteer programme.
Speaking of her appointment, Louise said; "I am delighted to be joining the University and I look forward to working with colleagues across the University to further inspire and engage our alumni and funders in support of our strategic goals and for major campaigns including the Old College.
"In working together to develop and deliver a shared vision and strategy for philanthropic support, we will be building on the ambitions and commitment of our founders as well as acting as a catalyst for creativity and innovation within the University and more widely in Wales, the UK and internationally.
"As an alumna, I will bring further passion, perspective and authenticity to the role to complement my professional experience and feel very privileged to be working with fellow alumni and friends from around the world in this critical and exciting next chapter of the University's development'."
Louise takes up her new post on 3 March.
The appointments have been welcomed by Professor April McMahon, Vice-Chancellor at Aberystwyth University. "My warmest congratulations to Alwena and Louise on their appointments. This is a very exciting time to be working at Aberystwyth University with more than £100m being invested in new facilities, including the redevelopment of the iconic Old College."
"I am delighted we have appointed two individuals who have a proven track record of success in their different fields. They will bring great expertise and enthusiasm to support our ambitious Strategic Plan and develop the vital work of engaging with students past and present together with the local community and our stakeholders nationally and internationally."
AU3614