BAFTA nominations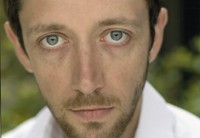 Rhodri Meilir, a graduate from the Department of Theatre, Ffilm and Televisions Studies.
This Sunday, 29 September, two of Aberystwyth University's alumni will be going head to head in the best actor category at the British Academy of Film and Television Arts Cymru Awards (BAFTA).
Michael Sheen OBE, one of the University's Fellows, is nominated for his role as the Teacher in the highly acclaimed The Gospel of Us, the film version of the Passion play which was performed throughout Port Talbot in Easter 2011.
Michael Sheen was presented by Professor Elan Closs Stephens CBE for a Fellowship of the University during summer 2012. Michael, who gained his film breakthrough playing the role of Tony Blair in the Channel 4 production The Deal, and also the 2006 film The Queen, has also collected several Laurence Olivier Awards for his stage roles and BAFTAs for his films, and was awarded an OBE in 2009.
Also shortlisted for best actor is Rhodri Meilir, a graduate of the Department of Theatre, Film and Television Studies for his role as Trefor in S4C's Gwlad yr Astra Gwyn.  Rhodri graduated in Drama in 2000 and has since played a number of roles on television, film and stage including BBC's My Family, Sky One's film of the Terry Pratchett novel, Hogfather and cameo role in Dr Who.
Commenting on the shortlising, Dr Jamie Medhurst, Head of the Department of Theatre, Film and Television Studies said; "I am delighted that two individuals with strong connections to Aberystwyth University have been shortlisted for this prestigious prize. I, along with many members of the department will be following the events of the evening and will be keeping my fingers crossed that either Michael or Rhodri take the accolade."
The third nominee in the category for best actor is Mark Lewis Jones for his part in Stella (series 1).
The 22nd annual British Academy Cymru Awards will take place at Wales Millennium Centre, Cardiff on Sunday 29 September 2013. Winners will be announced at a star-studded ceremony hosted by television presenter Matt Johnson and news presenter Sian Lloyd.
The Department of Theatre, Film and Television Studies, one of the largest of its kind in the UK with 900 undergraduate and postgraduate students, is celebrating its fortieth anniversary during the 2013-14 academic year. Further details of anniversary events will be available at www.aber.ac.uk/en/tfts.
AU35913