Llanbadarn open for business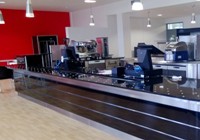 Blas Padarn, possibly the most beautiful informal study space and restaurant in Wales
After months of preparation and renovation, the Llanbadarn Centre today becomes the new home to the Institute of Management, Law and Information Science (IMLIS) at Aberystwyth University.
In an improvement programme which has seen the University invest £3.5m, to create a new business and professional environment for the School of Management and Business, Department of Law and Criminology and Department of Information Studies, the doors are open today.
Llanbadarn Centre is set in beautiful grounds with plenty of pedestrian areas, green spaces and parking. The five Institute's buildings are accessible, bright and vibrant. Inside, each of the buildings have been reconfigured, refreshed and re-equipped with state-of-the-art teaching rooms, non-traditional teaching spaces, social areas and IT facilities, ensuring they meet modern learning and professional development needs.
Professsor Andy Henley, Institute Director for IMLIS said; "I am delighted that we have now moved into a fully refurbished space, which provides the standard and quality of academic space consistent with providing an excellent, professionally focused student experience. We will have some really impressive teaching space, equipped to an extremely high standard, as well as attractive social learning space where students and staff can meet and interact."
Rebecca Davies, Pro Vice–Chancellor for Student and Staff Services paid tribute to the hard work and determination shown in getting the transformation complete.
"This is a fantastic development for the University, a dedicated centre for IMLIS and brought to fruition by the dedication of colleagues within the University and by the contractors. I thank them all. This is just part of the major change that we are investing in at Aberystwyth University, to provide a research, teaching and social environment that is second to none."
The Llanbadarn Centre will also have its own dedicated library based in the Thomas Parry building, stocked with all the textbooks, journals, and learning support material. There will be full access to the latest electronic resources.
Staff will be located in the two main buildings, the Elystan Morgan Building and Rheidol Building. There is also a brand new food outlet called Blas Padarn, which may just boast the most beautiful informal study space and restaurant in Wales.
AU35313